Remnants of a Buddhist civilisation in Nateshwar
Archaeologists find pyramid-shaped stupa and more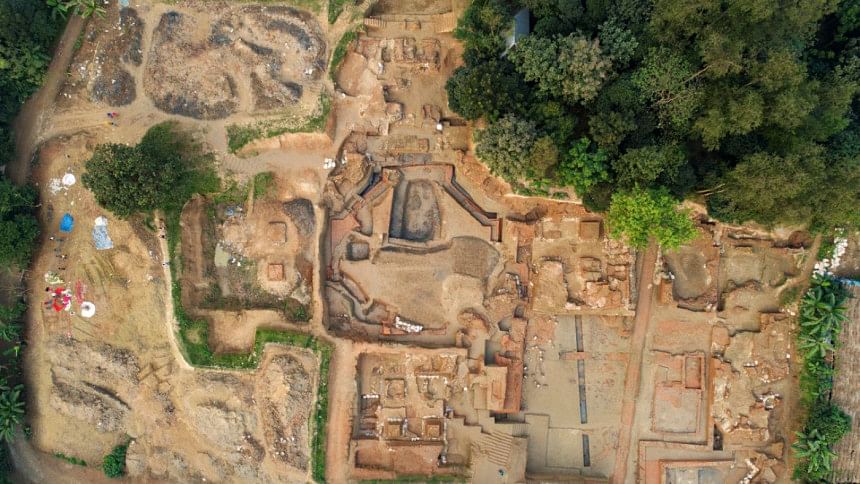 The recently excavated Nateshwar archaeological site bears witness to the Bengal region's thousand-year-old history, with its pyramid-shaped stupas, wide walkways, mandaps and households. Ranging from biological remains of flora and fauna, to terracotta, metal and stone artefacts and unique architecture, the archaeological findings at Nateshwar paint the picture of an ancient civilisation that once dwelled in the country we now call home.
After the remarkable feat of excavating the Wari-Bateshwar ruins, Dr Sufi Mustafizur Rahman, professor of archaeology at Jahangirnagar University, is the director of this project.
"The archaeological site of Nateshwar in Bikrampur has the potential to become a centre of Buddhist culture in South Asia, and earn its place as a world heritage site. From last December to March, we have conducted archaeological survey and excavation, discovering pyramid-shaped structures, and other important artefacts," said Dr Sufi in a press briefing at Nateshwar excavation site in Munshiganj's Tongibari upazila recently.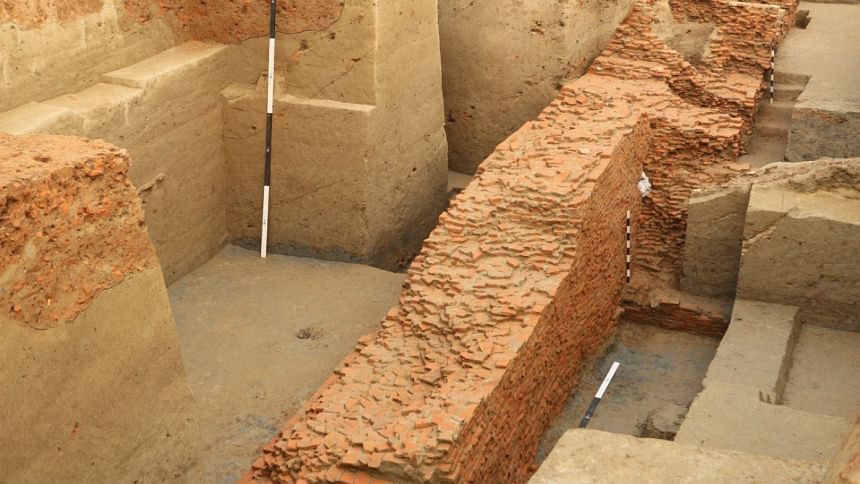 With support from the cultural affairs ministry and government's archaeology division, this excavation and research project is being supervised by Bikrampur Foundation. The work began in 2010.
Dr Sufi mentioned, "In the years 2013-18, over 5,000 square metres of land was discovered. Last year, we excavated ancient residential structures in Ballalbari." On the pyramid-like structure, Dr Sufi said, "This is a Buddhist stupa, akin to other stupas of this subcontinent such as Sanchi, Bharhut, Amaravati etc."
"Preliminary excavation was done in nine sites in the years 2010-13. We discovered six rooms where monks once lived, one mandap (worship pavilion), and pentagonal stupa in Rampal union. In 2013 at Nateshwar's Deul area, we found a Buddhist temple, octagonal stupas, brick walkway and drains," he added.
Keeping in mind the huge scale and scope of the preservation work, Bikrampur Foundation partnered up with the Institute of Cultural Relics and Archaeology in China's Hunan province. "Through carbon dating, we have determined two timelines for the Buddhist residences – 780-950 AD for the first period and 950-1223 AD for the second," said Dr Sufi.
There is a temple made of brick, three octagonal stupas with mandap, 51-metre long brick roads, multiple rooms and hall rooms, and entryway. Before the rainy season hits in full swing, the archaeological sites will be specially protected to prevent water from getting in, said Dr Sufi. He also announced the end of this phase of the excavation for the year.
State Minister for Cultural Affairs, KM Khalid said at the briefing, "These archaeological treasures must be preserved. Detailed research efforts will reveal the correct history of this site to enrich Bengali culture."
Abdul Gani, a local teacher who visited the site, said, "This discovery has the potential to change the face of this area. These valuable artefacts must be protected at any cost."