Dhaka Airport Third Terminal: Work progress ahead of target
Says state minister Mahbub Ali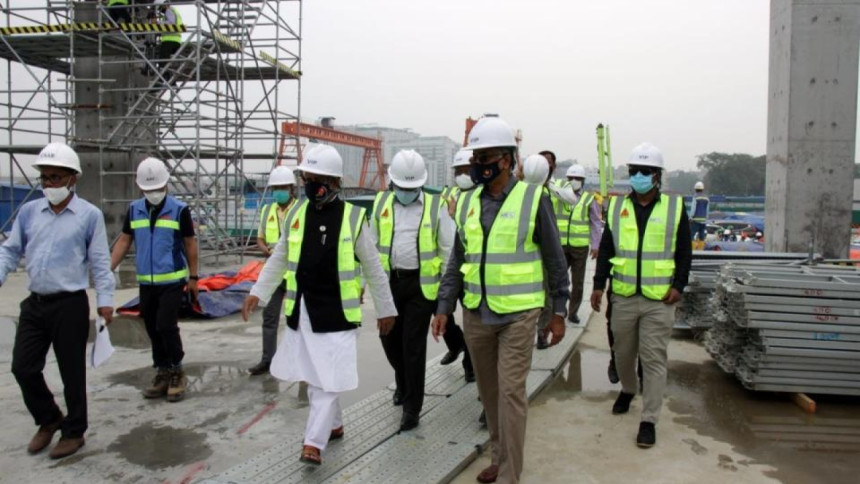 Construction work of the third terminal of Hazrat Shahjalal International Airport (HSIA) is ahead of target, State Minister for Civil Aviation and Tourism M Mahbub Ali said yesterday.
In June 2021, 14.5 percent of the work of the terminal was supposed to be completed, but till yesterday, 17 percent work has been completed, he said while visiting progress of the construction work.
Mahbub Ali said the size of the terminal would be more than double that of the current airport. The terminal will be connected through a tunnel with Ashkona Hajj Camp. This will allow pilgrims to enter the airport directly from the Hajj camp.
The state minister said construction work of the terminal did not stop even for a day when the whole world was at a standstill due to the Covid-19 pandemic. The terminal is expected to be completed in June 2023.
"However, we hope that the work will be completed ahead of schedule," he said, adding that the metro rail will be connected to this terminal that will be fully automated.
"A separate (metro rail) station will also be created. Through this, passengers coming to Bangladesh will be able to go to their destination by metro rail without leaving the airport. Apart from this, anyone will be able to go directly to the departure area of the airport from any station in Dhaka by metro rail," Mahbub also said.
Secretary to the civil aviation ministry Mokammel Hossain; Civil Aviation Authority of Bangladesh Chairman Air Vice Marshal M Mafidur Rahman; Managing Director and Chief Executive Officer of Biman Bangladesh Airlines Dr Abu Saleh Md Mostafa Kamal and other senior officials were present.
Prime Minister Sheikh Hasina in December 2019 inaugurated the construction works of Terminal 3, designed by celebrated architect Rohani Baharin who has a number of major airport terminals in his portfolio.
The three-storied terminal building, which will be 2.30 lakh square metres, will be built by Mitsubishi and Fujita of Japan and Samsung of Korea.
The estimated cost of the terminal stands at Tk 20,598 crore. Seventy percent of the funding is coming from the Japan International Cooperation Agency (Jica).
Around two crore passengers will be able to use the HSIA following construction of the third terminal.
In its current form, HSIA can handle eight million passengers a year. But the number of passengers is expected to reach 14 million by 2025 and 24.8 million by 2035, so the timing of Terminal 3 could not be more crucial.
Around 130 domestic and international flights -- including 26 foreign airlines' -- carrying 25,000-30,000 passengers used the HSIA every day before Covid-19 hit the country in March 2020.