Despite predicaments, they carry on
Women councillor candidates for reserved seats share their struggles, aspirations with Star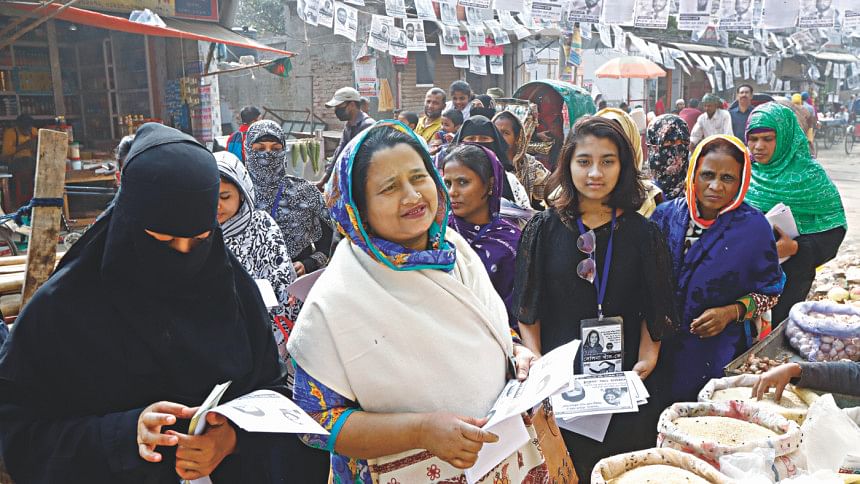 Women candidates for elections to the reserved ward councillor posts of two Dhaka city corporations don't just want to be "ornamental councillors"; they want to make the city safer for women and have demanded a balance of power between them and their male counterparts so that they can serve people properly.
With elections to Dhaka south and north city corporations less than two weeks away, the councillor candidates while speaking to The Daily Star recently shared their struggles and aspirations.
Elections to two mayor, 129 councillor and 43 reserved women councillor posts in DSCC and DNCC will be held on February 1. In the current structure, women members elected in reserved seats each represent three wards.
DSCC
In the south part of the city, 25 women councillor candidates each from Awami league and BNP are contesting for the reserved seats.
Awami League candidate Nazma Begum, immediate past councillor [reserved seat] of wards 48, 50 and 51, said, "We make many pledges to voters but we do not have the power to fulfil those. Besides, we have to carry out campaigning in three wards and reach out to more voters."
In most cases, women councillors are either ignored by the mayor and their male counterparts or they do not show any interest in involving reserved seat councillors in city corporation activities, she added.
"In the last one year as a councillor, I did not get any development work from the DSCC mayor. I tried to get involved in various activities on my own," said Nazma.
"I know that I could play an important role in the projects, if given opportunity. If we [women councillors] do not work for the people, why would they vote for us?" she said.
Nazma said they could carry out different development works for women's empowerment, if the authorities concerned supported them. "I even conducted training on sewing and knitting for the disadvantaged in my areas on my own during my one-year councillorship."
AL's Shahnaz Begum is a councillor aspirant for ward 67-69. She said she wants to work for building a drug-free society and empowering insolvent women through organising necessary funds and training programmes.
"To achieve this goal, it is very important to have the mayor's and general councillors' support," she said.
BNP councillor aspirant Farida Yesmin (ward 39, 40, 49 under Wari) said reserved seat women councillors need more power in order to work for the betterment of their respective ward.
BNP's Khaleda Alam (ward 52-54 under Kadamtali) said, "It's not easy to cover three wards within a short time. Even if we want to, we cannot conduct door-to-door campaigns like our male counterparts as we have a larger area to cover."
Mentioning lack of playgrounds in her wards, she said, "If elected, I want to work for creating more open space and playground."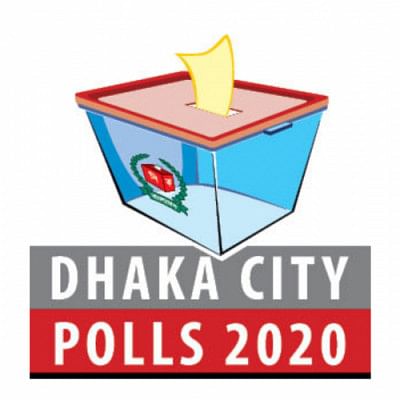 DNCC
In the north, 18 women councillor candidates each from Awami League and BNP are vying for the reserved seats. 
Salma Kamal, president of Pallabi Thana Mohila Awami league, is contesting for the second time in wards 2, 3, 5. Her area includes Pallabi and Kakoli. She is also joint secretary of Dhaka Mohanagar Mohila Awami League.
"Nearly half the voters in my area are women. I am encouraging them to vote," she said, adding that women's right to vote is imperative.
She said, "It's quite challenging to look after multiple wards. Despite various discriminations, we continue to work for people. If elected, I would like to do more for women."
Razia Sultana Etee is the incumbent councillor of wards 9-11. Her area includes Gabtoli, Kalyanpur, Darussalam and Mirpur.
The senior vice president of Darussalam Thana Mohila Awami League said, "Since 2001, women candidates for reserve seats are being elected not selected. I am contesting again as I want to help women in my area."
She said it is crucial that the authorities concerned extend full support to them so that they can continue to serve people in the best possible way.
"Our responsibility is in no way less than our male counterparts. We actually cover more areas than them. That's why I don't like to call us reserved seat councillors," she added.
"If elected, I will continue to work for women's empowerment. But at the same time, I know the limitations we face, so I am not promising anything grand. I wish to set up a training centre for widows and poor women, where they will learn how to sew and knit for free," she added.
About the challenges women candidates face, she said, "During campaign, we need to cover many areas in a short span of time. I had to communicate with people through mike for hours in multiple areas. Now doctors are telling me not to talk much and rest my voice, otherwise my vocal cord may get damaged."
"But as a pubic representative, how can I not speak to people?"
Stressing the need for more support from the city corporation, she said, "During the dengue outbreak, I had to initiate awareness campaign with my own funds as we were not given any fogger machine," she said.
'A CHANGE IN POLITICAL MINDSET, SYSTEM'
Stressing that equal participation of men and women in running a state and decision-making process is imperative, Dr Fauzia Moslem, acting president of Bangladesh Mahila Parishad, said a woman councillor [from reserved seat] has to work in three wards at a time.
In this context, women councillors cannot ensure their due role in development activities as they are deprived of adequate government funds and proper working environment, she said.
Local government expert Tofail Ahmed said the current system has to be changed. He said a parliamentary system should be introduced where people will elect councillors and then the councillors will elect a mayor from themselves.
Being a male-dominated society, women in reserved seats cannot exercise power properly, whereas male councillors exercise this power beyond their jurisdiction, he added.
"To empower women in the current system, one-third of the total wards should be dedicated only for women candidates, from where they will contest as councillors. Also, the wards can be changed by rotation after every five years," he added.
Experts also suggested that a change in political mindset is also crucial in this regard.