A day of red and yellow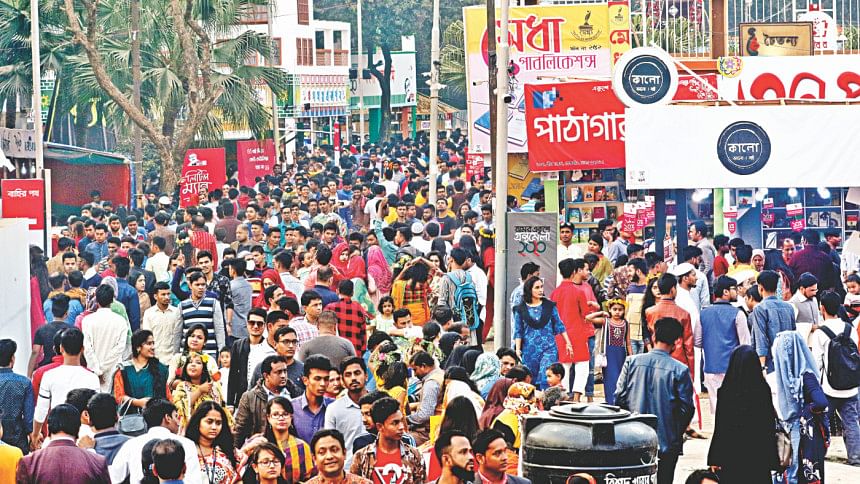 Dhaka is known for its festivities. Be it Eid, Puja, or Pahela Baishakh celebrations, there's at least a few occasions that are celebrated en masse every month.
And yet yesterday stood out.
As two days --- Valentine's Day and Pahela Falgun -- converged into one, it seemed it was not just the people who dressed up yesterday, but the entire city of Dhaka wore a different outlook.
Everywhere one looked, the city was painted in Valentine's red and Falgun's yellow.
It was also a day for the youth. While people from all ages came out to celebrate, it was young couples who took over the streets. Clad in yellow and red, they could be seen visiting and hanging out everywhere, as if to make sure they were the most noticeable demographic of the day.
Dating destinations were aplenty too. While some chose to go to the month-long book fair, some others chose restaurants and eateries. There were also such options as Valentine's or Falgun events or concerts, city landmarks, parks and shopping malls, or just travelling by rickshaw or seeing the day out chatting on the boulevard.
For example, newly-engaged couple Md Rafsan and Ipshita spent their time strolling at a park in Gulshan. "It's a special day, with two 'days' coinciding on the same day. But it's more special for us as we've just gotten engaged this year. Getting to go out on this beautiful day is going to be memorable," Rafsan said, smiling at his significant other. The couple were perhaps more in the spirit of Falgun than Valentine's Day as they wore matching outfits in yellow.
"We are a couple now, so we've come out wearing matching dresses. This is not new for us though, we have been doing this since our university days," Ipshita said.
Speaking of universities, yesterday was a busy day for universities with campuses in the city. Dhaka University alone saw a handful of events, hosting alongside the book fair a Falgun concert at Kalabhaban, a concert at TSC, a photowalk at Charukala department, and a "Bashanta Baran Utshab" at the same department.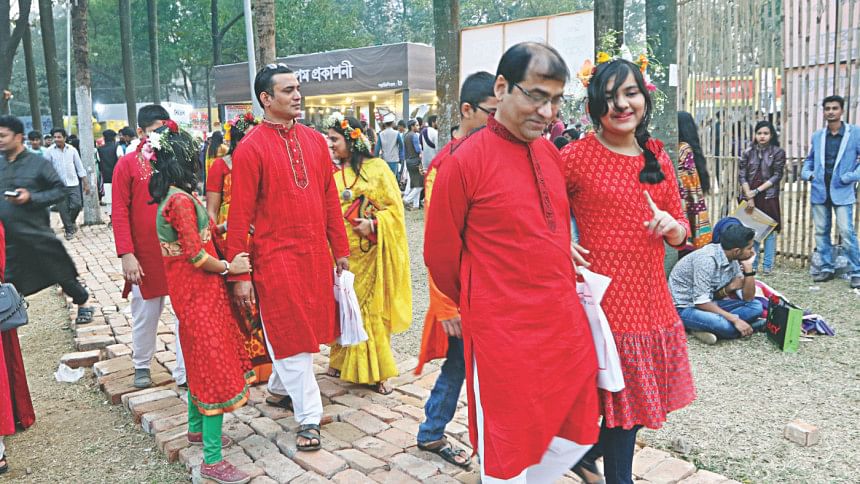 The concert at Kalabhaban was organised by Samageet, a cultural activism group. Titled "Samageet Bashanta Utshab 1426", the daylong concert featured such artistes as The Ghaashphoring Choir, Samageet, Shohojia, Krishnakali, and Leela.
The concert at TSC was the second day of "Banglalink Vibe Day". While the first day was marked by concerts at Independent University Bangladesh and Daffodil International University, the second day at DU featured bands such as Chirkutt, Cryptic Fate, Bay of Bengal, Arjan, and more.
For some, the day was beyond just red and yellow though. For example, for the audience at Samageet's concert at DU's Kalabhaban, it was more about celebrating the day expressing their own identities than it was about any colours. They came to the concert premises in attires of their choice, some in black, some in blue, and some in chequered designs. They flouted the traditional panjabi/saree binary as well, choosing to wear what fit their mood or what expressed their personalities best.
Beyond university campuses, regular leisure spots of the city also teemed with young couples yesterday. Hatirjheel, a year-long hangout zone, was filled to the brim by visitors. The highlight of the area was its water boats, as young couples preferred to ride the boats to spend the day wafting through the lake.
Other than couples, friends also came out in groups to celebrate the day together. Everywhere there's hangout spot, they could be seen taking selfies and gossiping with each other. Couple dates among friend circles was a notable group activity.
"Apart from me and my significant other, friends from both sides came to hangout with their partners. Since we are busy for most of the week, we don't really get to see each other all that often. This is why we're making the best out of this day by meeting up. We will spend the entire day just roaming around and finish it by having dinner together," said Istiaque Ahmed, in the middle of taking selfies with his friends and loved ones.    
Apart from dress codes and roaming around, flowers were one of the main attractions of the day. People were seen gifting each other with colourful and aromatic flowers, some packed together in bouquets. Tiaras were a smash hit, as they were seen adorning the crowns of people of all genders alike.
Centring the day, flower businesses thrived. Some hawkers put their regular business on hold to ferry flower for some quick cash. They sold the flowers at a higher price than normal, but it didn't seem to bother some of the buyers, who were in too benevolent a mood for the day.
"Selling flowers is highly profitable on this day. I've switched from my regular business to hawking flowers for today. I've bought flowers worth Tk 10,000. I'm looking forward to earn around double that amount," said Mohammad Hossain, who usually sells cloths at Gulshan.