A dangerous 'Solution'
Residents of Rupganj use hazardous 'balloon' technique to deposit gas from illegal lines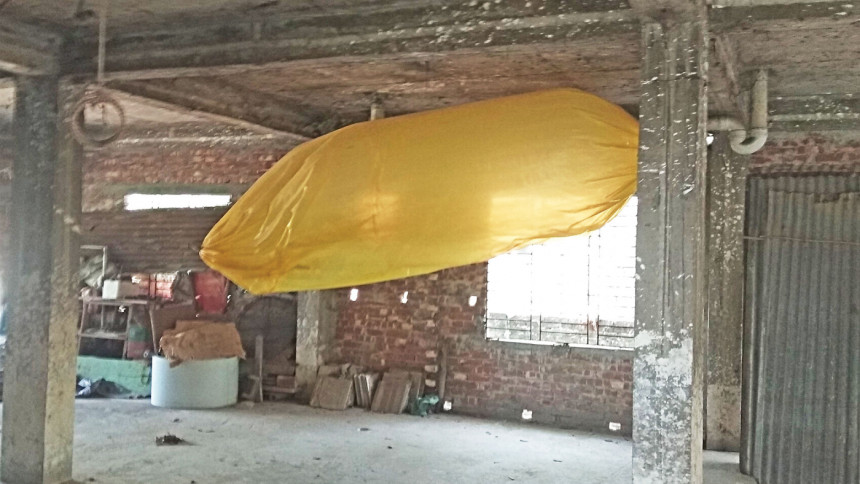 Across 15 villages of Narayanganj's Rupganj upazila, a bizarre scene  of several hundred giant balloons floating around households can be seen. Some are on rooftops, some on corridors inside, while some  tied to trees adjacent to the houses.
The balloons contain methane gas, mostly used for cooking. It may look and feel like a  convenient solution for the hassle of obtaining proper gas connection,  but the practice poses tremendous risk of fire hazard, said fire service and Titas Gas personnel.
Each  of the balloons have two leakage points connected to two tubes on each  side. On one side, the tube connects the balloon with a nearby gas  pipeline, while the other connects it with a cooking stove.
Md Shah Alam, in-charge of Kanchan Fire Service Station at Rupganj,   said, "The entire process is extremely dangerous and may cause fire accident anytime."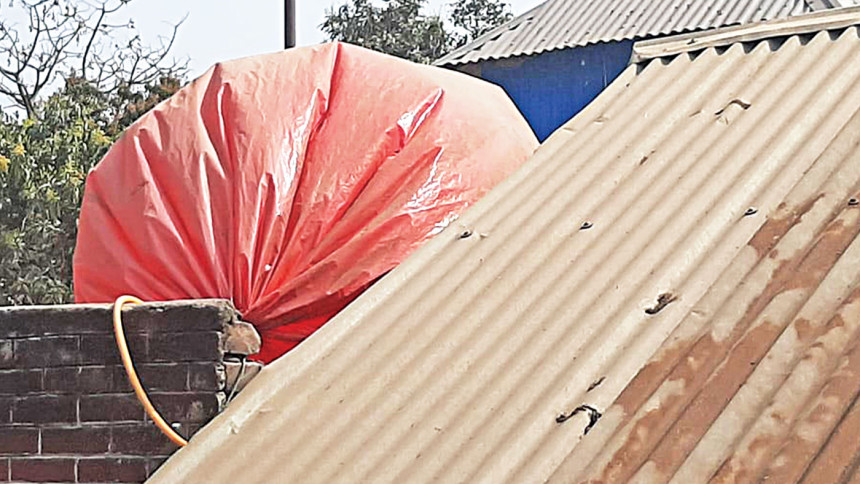 Villagers have been using this dangerous technique to preserve gas for around six  months. Locals say they are constantly faced with low gas pressure  during daytime, which is why they've chosen to preserve gas at night  this way.
This correspondent recently visited Khamarpara, Talashpur, Nagarpara and  adjacent villages of Rupganj upazila and talked to dozens of people in this regard.
The issue goes back to 2015, when some influential people of the area arranged for illegal gas connections in exchange of bribes ranging from Tk 12,000 to 15,000, they said. Locals have been consuming gas illegally this way since then, all without paying their bills.
"We face low pressure during the day. But as our connections are illegal, we cannot file any application with government authorities dealing with this," said Ali Mohammad Shaon of Khamarpara village. "The gas balloon technique is a natural consequence to our problems."
Fazila Begum, another resident of Khamarpara, echoed Shaon's sentiments, before detailing the process. "It requires  polythene, rope, pipe, and some other materials to prepare the balloon. A  mechanic named Badal is known for his expertise on this. I paid him Tk 1,500 to  make a balloon for me."
Their neighbour Kamal Hossain said, "I first saw this in Talashpur  village, from where it spread to adjacent villages. Now, around 2,000 families  of around 15 villages use this technique."
Asked  about fire risk, Kamal said, "I know there is risk, but we have  not gotten any news of fire accidents till now (in 6 months). If everybody around me is  using it, why should I be left out?"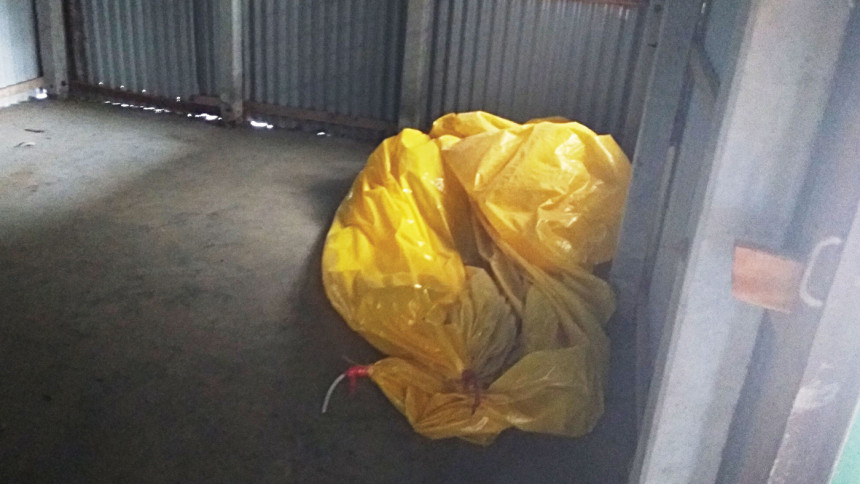 However, the same cannot be said of everyone, as some are yet to consider the dangers. Talashpur's Sitara Begum said she did not know that the gas balloons carry a high risk of fire hazards.
"I don't think it will cause any harm. If it were harmful, why is such a huge number of people using this technique?" she asked.
Meanwhile, locals declined to reveal who arranged gas connections for them in exchange of money or the identity of Badal, who set up the "gas balloons".
Contacted, Engineer  Md Misbah-ur-Rahman, Sonargaon zonal distribution manager of Titas Gas, confirmed that there's no gas supply to those areas, adding, "We will conduct drives against these  illegal connections soon and take legal action against the perpetrators."
He also said until the government sets up gas connections in those areas, villages for the time being can use either gas cylinders or mud/wood stoves, rather than engaging in such risky practices.
Rupganj Upazila Nirbahi Officer  Sha Nusrat Jahan said, "I have heard of this issue. We will conduct  drives there shortly."