Covid-19 forces indigenous women to change profession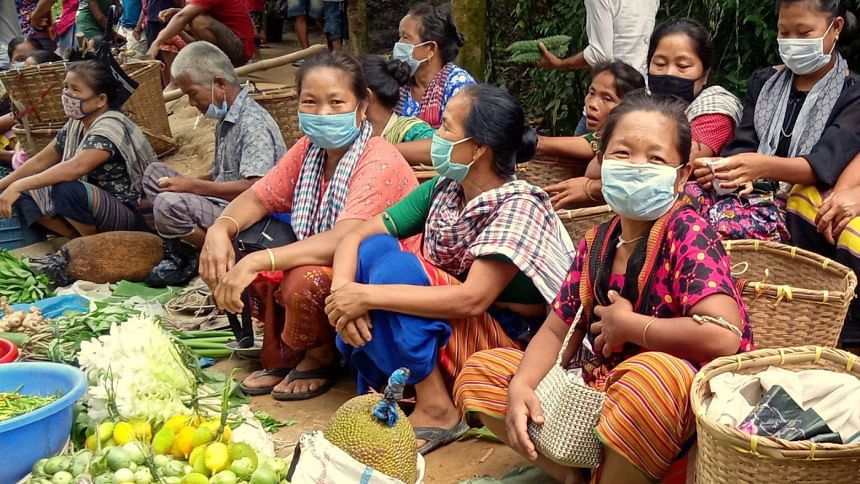 Before the coronavirus pandemic, Arpa Dewan, an honours 3rd year student of Rangamati Government College, taught at a local kindergarten school in the district town to support her family and her education.
She has become jobless after educational institutions across the country remained closed in March this year due to coronavirus outbreak.
Arpa is now making various kinds of snacks at home and selling them to customers through Facebook. To encourage customers, she is also providing home delivery service in different areas of the town. And she is now earning good profit from selling the homemade food. 
Arpa said she does not know when the situation will improve. So, she has started the new venture without wasting the time.
Like Arpa, a number of women in three districts of Chattogram Hill Tracts (CHT) have been compelled to change their profession due to the pandemic. Many are living a hard life in the challenging time. They have to go outside for work every day taking the risk of being infected by the coronavirus.
At present, around 40 women in Bilaichharipara area of Rangamati Sadar upazila sell different types of vegetables collected from Jhum farmers every day. Each of them earns Tk 500 to Tk 1000 from selling the vegetables daily.
Sushmita Chakma said she used to work at different places before the pandemic. But Covid-19 hit the job market badly. Many lost their jobs. 
She further added that the relief given by the government and various organisations was not sufficient. Finding no other alternative, she was forced to sell vegetables to support her family.
Nuku Chakma, a development activist of Rangamati, said it is a good thing that indigenous women have come to different types of professions to make a living during the Covid-19 pandemic.
But in order to survive in the professions, it is necessary to help improve their skills, he said.
Nuku further added that at the same time, they have to give importance to various kinds of income-generating activities. So the government and different non-governmental organisations have to come forward to help the women of three hill districts in CHT.