BGB member arrested with 480 yaba pills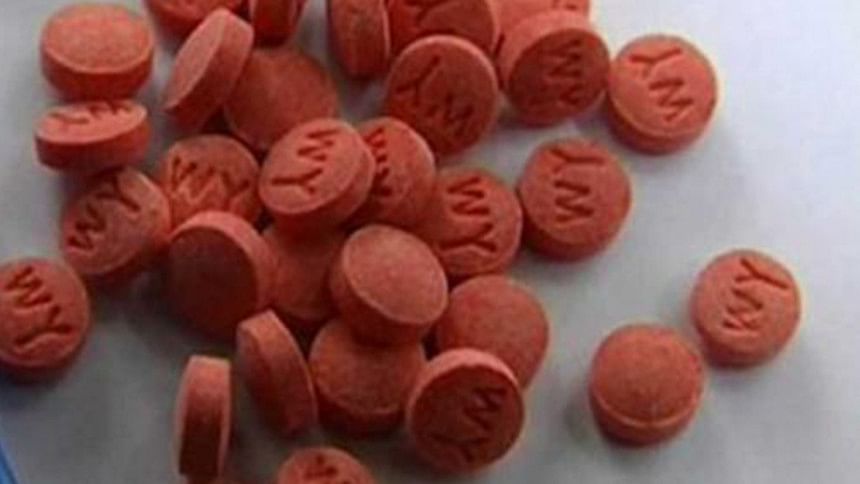 A Border Guard Bangladesh (BGB) member was arrested from Sadarghat area in the capital with 480 pieces of yaba pills on Sunday night.
The arrestee, Mafizul Islam, is a Nayek of BGB who works at BGB Regional Headquarters in Cox's Bazar. He was on a one-month leave, police sources said.   
Following information gleaned from the BGB member, police also arrested two of his accomplices from Hatirjheel area that night with 35 yaba pills, police said.
KM Ashraf Uddin, officer-in-charge of Sutrapur Police Station, said acting on a tip-off they searched the BGB member at Sadarghat Launch Terminal area at 8:45pm and found 50 yaba pills in the pocket of his pants. Later, they found 430 more yaba pills in his bag and arrested him.
During interrogation, Mafizul informed police about his two accomplices -- Siddiq and Mrs Nayan. Police launched another drive in Hatirjheel and arrested Siddiq with 20 yaba pills and Nayan with 15.
OC Ashraf Uddin also said the BGB member and his two accomplices were produced before a Dhaka court with five-day remand prayer for each. Court sources said the court sent the arrestees to jail.
TWO ARRESTED WITH YABA IN STOMACH
Detectives arrested two yaba traders from the city's Uttar Khan while they were carrying 2000 pieces of yaba tablets in their stomachs on Sunday.
A team of Detective Branch (DB)of police raided Fakirer Tek area in Uttar Khan around 6:30pm on Sunday and arrested Md Mamun, 25, and Md Mafizul Islam, 26.
The police team carried out x-rays and found the yaba tablets in their abdomen.
A case was filed under the Narcotics Control Act against the yaba traders with Uttar Khan Police Station.