Ekushey Book Fair : 'Better promotion would have drawn more visitors'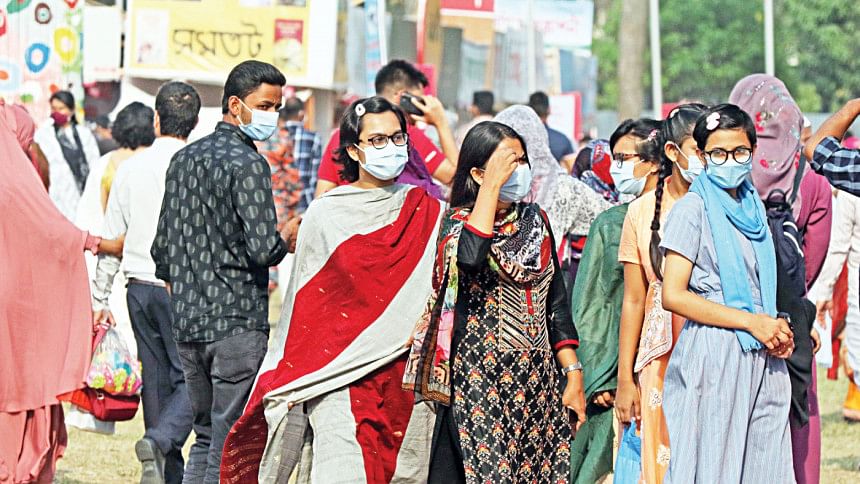 As soon as the gate of Amar Ekushey book fair opened at 3pm yesterday, visitors started coming in. Among lone visitors and groups, there were students, couples, families university students, couples and families joining in the festivity of the fair.
Visiting the Boimela premise, this correspondent found visitors wandering around the stalls and sitting at different corners, particularly surrounding the lake adjacent to the Independence Monument. More than just an occasion to buy books, the fair looked like a place where people came to spend time with their loved ones.
"The Boimela is that one place where you get to buy books and chit-chat with your friends at the same time," said Ayesha Zaman, a visitor sitting on the grass with her friends. "This creates a culture of living and breathing among books." She had a couple of books in her hand, including 'Rabindranath o Somokalin Bangladesh' by Atiur Rahman from Bangla Prokash.
This correspondent came across two friends who were having a discussion following a session at the writers' corner adjacent to the lake. The conversation centered around the current situation of writers and literature.
Md Masud met his friend Shakhawat Hossain after a long time yesterday. Both big fans of fiction, they couldn't help but start a deep back and forth after attending the session on contemporary literature. "It was an eye opening experience. We got to know so much about how literature works these days, and also how writers are faring faced with today's reading culture. This is only possible at the fair. You can buy books and discuss your favourite topics as well," said Masud, who bought a poetry collection of Rabindranath Tagore.
Bithi and Rajib came to the fair with their 10-year-old daughter Nowshin. There to spend the evening, they told this correspondent they had no idea the Boimela is taking place this year. "I got to know about it from a colleague. We made up our minds for a visit immediately, and here we are. We bought some books for our daughter. She's quite excited about the whole thing," Rajib said.
Overall, though the sixth day of the fair wasn't breaking records, publishers informed there was a moderate flow of visitors at the fair all day yesterday.
Bangla Prokash staff Samin Yasir said, "A lot of people are yet to know the fair is taking place, mainly due to its delayed start. Once widely known, the crowd will definitely increase. However, those who are in the know are coming, buying books, and socialising, and that's great for us." Some of the popular books flying off Bangla Prokash's shelves are 'Jonoker Mukh' by SM Shamsul Alam and 'Onno Rokom Onno Hobo' by Mahmud Khurshid.
People are also buying books from Shobdoshoili. Some of its key choices are: 'Time management' by Richard Walsh (translated by Fahim Morshed), 'Social Intelligence' by Daniel Golman (translated by Anika Nawar), and 'Shoiroshashoner Noy Bochor' by Major Rafiqul Islam.