Armed police battalions take charge of Rohingya camps in Cox's Bazar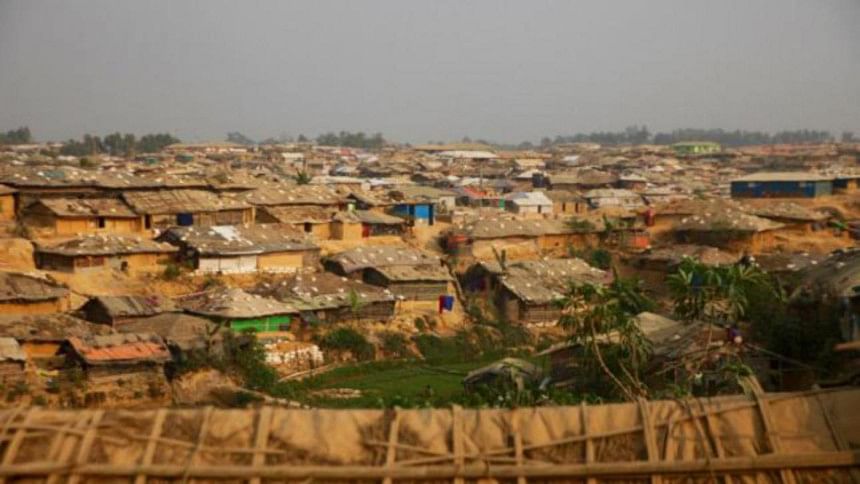 Two special police battalions, formed to ensure security of Rohingyas, have finally taken over the responsibility to ensure law and order inside the refugee camps in Cox's Bazar.
From now on, officials of the special battalions -- APBn 14 and APBn 16 -- will be on duty inside the 34 refugee camps in Teknaf and Ukhia. The Cox's Bazar District police officials have already handed over the duties and left the camps, according to officials.
However, the responsibility of filing cases and investigation will be still under the jurisdiction of district police.
Confirming the development, Mahbub Alam Talukder, refugee relief and repatriation commissioner (RRRC), told The Daily Star that the special battalions have taken charge yesterday.
APBn (Armed Police Battalion) 14 will ensure security measures of the Ukhia camp while APBn 16 will take care of security measures of a portion of Ukhia and Teknaf camps, he said.
"The overall cases and investigation measures will be taken care of by the local police stations," added the RRRC commissioner.
Members of the Rohingya community first started coming to Bangladesh from the Rakhine State of Myanmar in 1978. While they mostly came in sporadic numbers over the next few decades, a mass exodus happened since August 25, 2016, as hundreds of thousands fled persecution there.
Around 11 lakh Rohingya, including the newcomers, were settled into 34 camps in Ukhia and Teknaf of the district.
Bangladesh Army, Border Guard Bangladesh and Rapid Action Battalion members remain on duty to ensure overall security of these camps. The district police were responsible for security inside the camps, which now APBn will ensure.
Hemayetul Islam, commanding officer of APBn-16, said, "We will conduct drives and ensure security inside the camps. But a sub-inspector rank official from district police will be present with us as a liaison officer to file and investigate cases."
The district police can also avail support of APBn for conducting drives, he said.
The government formed APBn 14 in 2018 and APBn 16 in 2019 to ensure law and order of the district and security of Rohingya refugees. Two superintendents of police rank officials were posted as the commanding officers of the battalions, which have a manpower of 1,176.
Hemayetul Islam said APBn 16 will be in charge of security in 15 camps in Teknaf and Ukhia and APBn 14 will ensure security of 19 camps in Ukhia.
On an average, 25 to 30 APBn members will be on duty in each camp.
Earlier, the inspector general of police directed the APBn officials to take the charge of Rohingya camps within June 30, according to officials.
ABM Masud Hossain, superintendent of Cox's Bazar district police, said the special battalions were formed to take care of Rohingya camps and they have already started their work.
APBn will take care of daily activities including check posts, patrolling and conducting drives inside camps, he said. "If any specific information reaches us, we will also conduct drives along with APBn members."
Since August 25, 2017 to June this year, around 668 cases including 52 on murder charges were filed in 34 Rohingya camps against 1,561 persons.