An all-rounder in humanitarian causes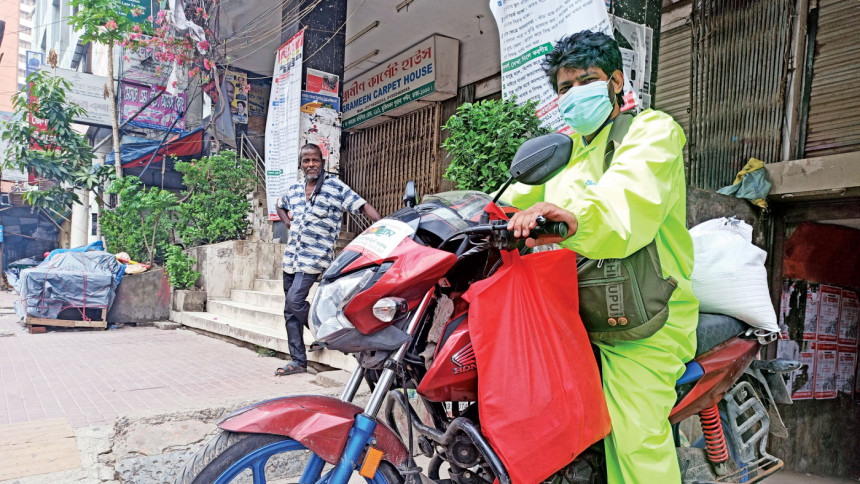 Beyond formal frontline workers -- healthcare workers, law enforcement personnel, retail staff -- the Covid-19 pandemic's vanguard is also lined by many private individuals. These volunteers and relief workers do not step out of the safety of their homes due to official calls, but rather out of a sense of duty towards their people.
Dipak Shill is one such example. For the last one month or so, Dipak has been risking his own safety to bring it to others. From emergency transportation to relief work, Dipak has been everywhere during this time, and has rightfully garnered plaudits from those he's aided.
He has been taking relief materials to the doorsteps of the needful, on his motorbike, with his own fuel money ever since the pandemic hit the country. So far, he has delivered relief packs to at least 300 families, in areas all across Dhaka, including, Demra, Tongi, Savar, Jatrabari, Wari, Madertek, Bashabo, Khilgaon, Chawkbazar, Lalbag, Kamrangirchar, Rong Market, Bosila, Art Bazar, Mohammadpur, Uttara, Rampura and Badda.
Dipak, central vice president of Bangladesh Chhatra Union, said all he wants is to stand by those who are suffering in these difficult months.
"Every day I go out on my motorbike wearing protective gears thinking that today I will help more people than yesterday," he said of his conviction.
Dipak's organisation Bangladesh Chhatra Union and its associate body Bangladesh Juba Union have been raising funds for the needy and distributing hand sanitisers and relief items among those who are suffering most from the outbreak of the deadly virus.
Dipak said he is delivering aid to those areas where many cannot reach due to the lack of transportation facilities.
Besides delivering relief, he also delivers grocery items, emergency medicines, children's food and other essentials whenever anyone contacts him.
About a week ago, Dipak dropped private university student Riman Khan to his village in Tangail on his motorbike.
Riman said his family had moved to their homestead when the government first announced the shutdown. Unfortunately, he could not accompany them due to some outstanding work in the capital. And then as the shutdown became more strict, he simply remained stranded in Dhaka.
"I was stuck in Sutrapur for over a month. I was getting frustrated and growing sick, both mentally and physically," Riman said.
He came to know about Dipak "dada" through an acquaintance. Contacted, Dipak wasted no time in picking Riman up and driving him all the way to Tangail.
"I have no words left to express my gratitude to Dipak dada," Riman told this correspondent over the phone.