Adding a touch of history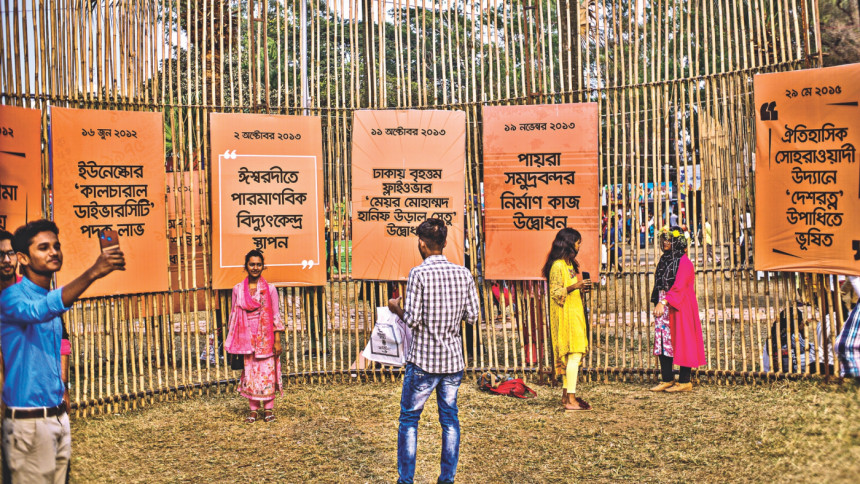 Thousands of book lovers' footsteps have fallen on Suhrawardy Udyan throughout the Amar Ekushey Grantha Mela this year, at the site has witnessed significant historic events, most importantly Bangabandhu Sheikh Mujibur Rahman's iconic speech on March 7, 1971.
A special corner of the fair highlights the words of Bangabandhu's speech. Named "Sangram Chattar", this area celebrates the Father of the Nation's illustrious life and work.
Visitors are learning more about the country's history and achievements through these exhibits set up near Mukto Moncho at the Udyan. There is another corner titled "Arjan Chattar," which lists the achievements of the country starting from 1997.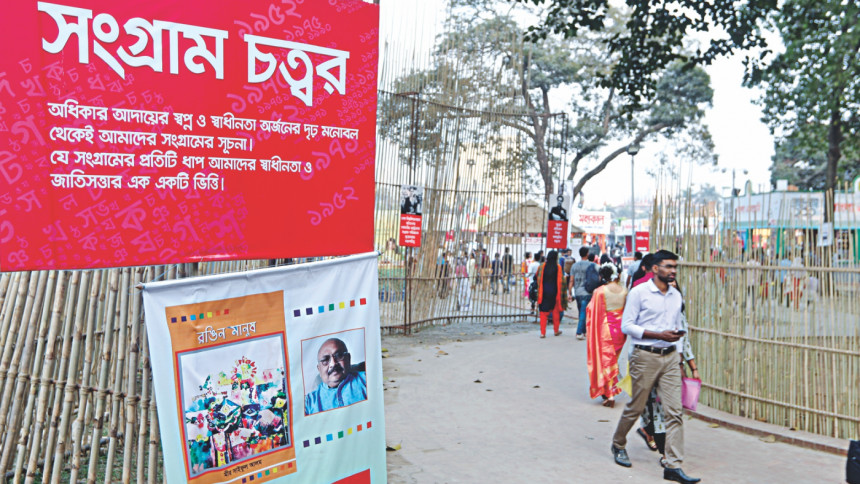 "Ekushey book fair is generally revered as the biggest festival for books, but these new corners and exhibits really added more value to the fair," said Tanbir Hasan Shaikat, a member of Dhaka University Central Students' Union (Ducsu).
The festoons at Shangram corner include Bangabndhu's statement against Ayub Khan's "basic democracies" on June 25, 1962; formation of Sorbodoliyo Chatra Sangram Parishad O Danga Committee on March 11, 1964; presentation of six-point demand on February 5, 1966; Agartala Conspiracy case of 1968 and so on.
"These initiatives will help the public learn more about the history of our country," said Shaikat.
Visitors were keenly observing these special corners, while many took photos and selfies as well.
At Arjan Chattar, fair authorities set up a total of 13 festoons including establishment of Payra port at Patuakhali on November 19, 2013; inauguration of Mayor Mohammad Hanif Flyover on October 11, 2013; establishment of Rooppur Nuclear Power Plant at Ishwardi on October 2, 2013; verdict of Bangabandhu murder on January 28, 2010 and so on.