Road Crashes: 7,221 killed last year
Says report by passenger welfare body; reckless driving, unskilled drivers among main causes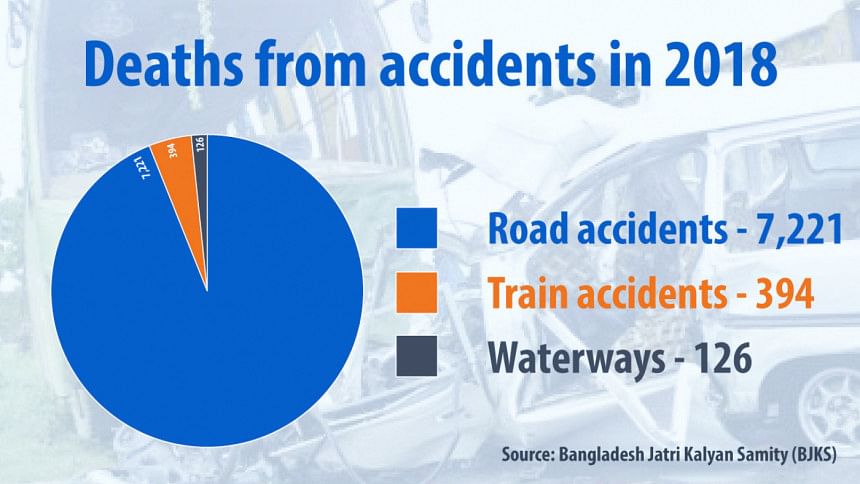 At least 7,221 people were killed and 15,466 others injured in 5,514 road crashes across the country last year, said a passengers' welfare body yesterday.
On an average, almost 20 people got killed every day last year.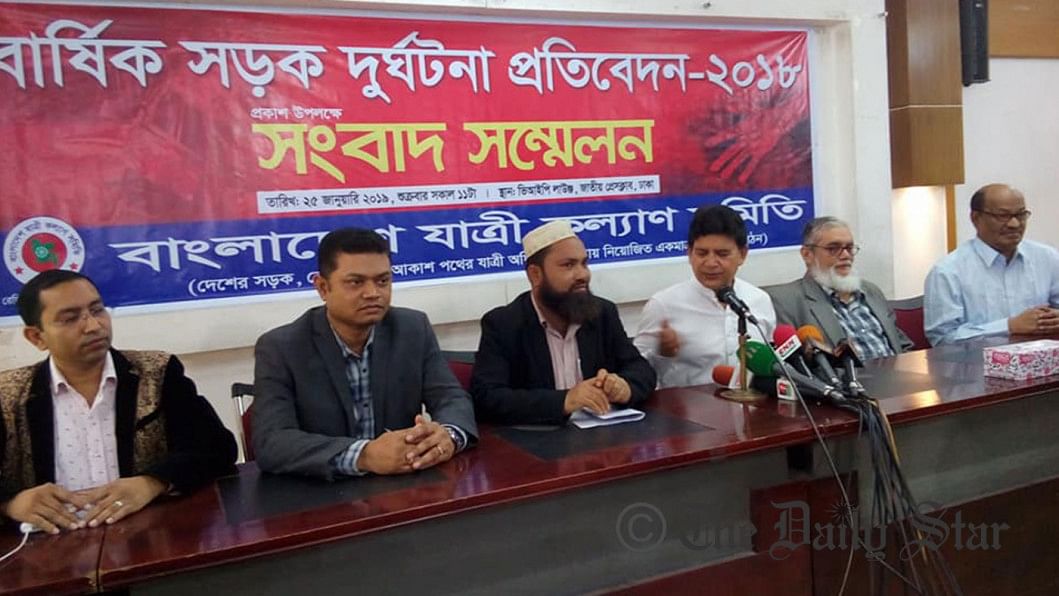 ALSO READ: 13 killed as truck overturns on Cumilla brick kiln mess
Reckless driving, risky overtaking, faulty roads, unfit vehicles, unskilled drivers and a general lack of awareness
among road users are the main reasons behind the crashes, it said.
"Killing continues in Bangladesh in the name of road accidents," Mozammel Hoque Chowdhury, secretary general of Bangladesh Jatri Kalyan Samity, said as he revealed the Annual Road Accident Report-2018 at the Jatiya Press Club in the morning.
Hours before he revealed the report, a truck in Cumilla killed at least 13 and injured two others after it crashed into a workers' shed at a brick kiln.
Compared to 2017, the number crashes increased last year, but the casualties were fewer.
The country witnessed an unprecedented students' protest for safer roads last year.
At least 7,397 people were killed and 16,193 others injured in 4,979 crashes in 2017, the organisation said.
It came up with the data by monitoring national, regional and online media reports.
The actual of number crashes and causalities might have been higher because many incidents go unreported.
However, the official number of causalities is a lot lower than the one mentioned in the report.  According to police report, 2,265 were killed and 1,659 others injured in 2,237 crashes during the first 10 months of last year.
OTHER FINDINGS
According to yesterday's report, a total of 394 people died and 248 others injured in 370 incidents on railway tracks.  On waterways, at least 126 died, 234 injured and 387 went missing in 159 incidents.
In five plane crashes, 55 people died and 32 others injured. The numbers include the US-Bangla plane crash in Kathmandu that killed 49 people, including 26 Bangladeshis.
On roads, 41.53 percent of the incidents involved vehicles running over people, 16.18 percent of vehicles falling into ditches and 29.72 percent of collisions.
The organisation recommended widespread awareness campaign about traffic laws, training drivers, quick enforcement of the new Road Transport Act and increasing public transport to prevent crashes.
OBSERVATIONS
Mozammel said different initiatives by the government and other organisations, including the Jatri Kalyan Samity, had not been able to stop road crashes.
"There is no coordination between the government and non-government organisations working in the sector."
The "silent killing" has lost importance among passengers, transport owners and workers, media personnel, civil society and government bodies concerned, he said.
"The country is incurring an irreparable loss due to the deaths of meritorious…people," he said.
Hossain Zillur Rahman, former adviser to a caretaker government, said causalities in road crashes in 2017 and 2018 remained almost similar. It means that the problems persist.
"There is no lack of initiatives but the pathetic reality is that we can't ensure accountability," he said.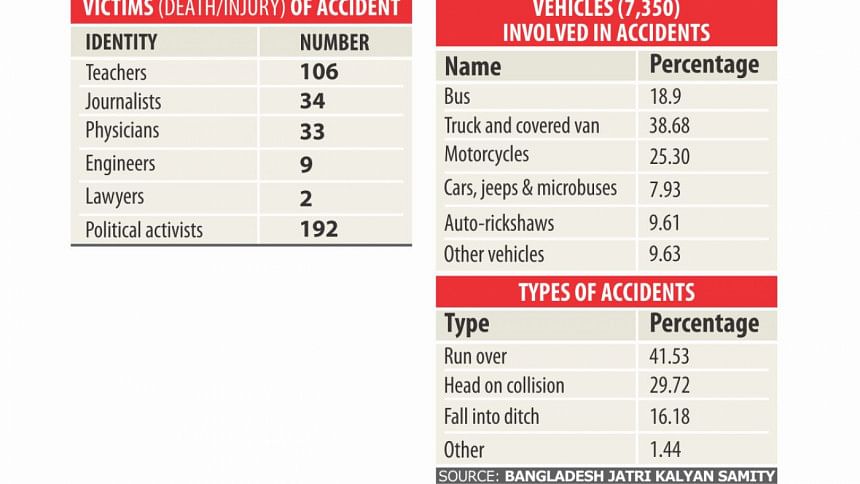 Zillur, also convener of Safe Road and Transport Alliance (SROTA), said accountability could not be ensured due to desperate transport workers and owners, pressure on transport workers to make more trips, extortion and callous road users.
"Taking initiatives is not enough. Focus should be on whether the initiatives are bearing any fruit," he added.
Senior Journalist Syed Ishtiaque Reza said there was an "evil cycle" in the transport sector, in which the contractors, engineers, police, transport owners and workers and politicians, who don't want to bring discipline on roads, were involved.
Supreme Court lawyer and road safety campaigner Jyotirmoy Barua said discipline on the roads would not be brought through enforcing laws alone. "Emphasis should be given on other related issues too."
Ekram Ahmed, president of Families United Against Road Accident, stressed the need for strengthening rail and waterways to cut pressure on roads.
Ayubur Rahman Khan, former chairman of Bangladesh Road Transport Authority, urged the government to put the Road Transport Act-2018 in force.