Truck kills 13 workers in their sleep
The coal-laden vehicle slams into makeshift shed at brick kiln in Cumilla
At least 13 workers were killed when a coal-laden truck flipped over on a makeshift shed at a brick kiln in Cumilla when the workers were still sleeping in early morning yesterday.
The incident happened as the driver lost control over the wheels, said Abdullah Al-Mamun, additional superintendent of police in Cumilla (south).
The trucker fled the scene after the incident, he added, but would not disclose his name or any other details.
All the victims are from two neighbouring villages under Jaldhaka upazila of Nilphamari district.
Nine of them were students at different schools. They went to Cumilla for part-time work at the brick field so they could support their families, family members said.
The accident, which also left two workers injured, happened inside K and Co Brick Field at Narayanpur in Chauddagram around 5:30am, said police and witnesses.
The kiln has been running on a rental basis, said its Manager Kamrul Islam.
Family members of the victims were in deep shock. Their heart-wrenching sobbing touched everyone who visited them in their homes, reports our correspondent there.
The truck, which came from Majhirhat in Chittagong, was overloaded, said Abdul Bari, inspector of Bangladesh Road Transport Authority in Cumilla.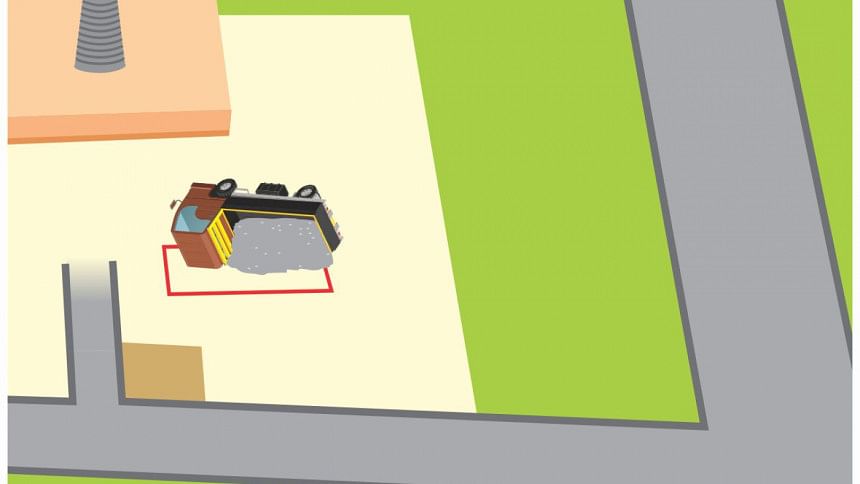 It was in reverse gear and moving backward for parking and unloading the coal.
"The vehicle overturned when one side of the truck climbed onto a six-feet high pile of coal there," the official added.
Eighteen workers were sleeping inside the shed at the time, said Hossain, one of the five survivors.
The truck fell on the shed with a huge bang, said Hossain, who is from Mirganj of Jaldhaka.
He was sleeping in a corner and managed to come out of the shed.
Police and firefighters reached the spot about 30 minute later, he added.
The shed was tin-roofed and built with five-inch brick walls. It was about 30 feet long, 10 feet wide and seven to eight feet high. Workers would sleep inside the shed spreading dried grain stalks on the concrete floor, brick kiln sources said.
The injured workers -- Bishnu and Ripon, both 18 years old -- took primary treatment at Cumilla Medical College Hospital.
Of the dead, nine were from Nijpara village.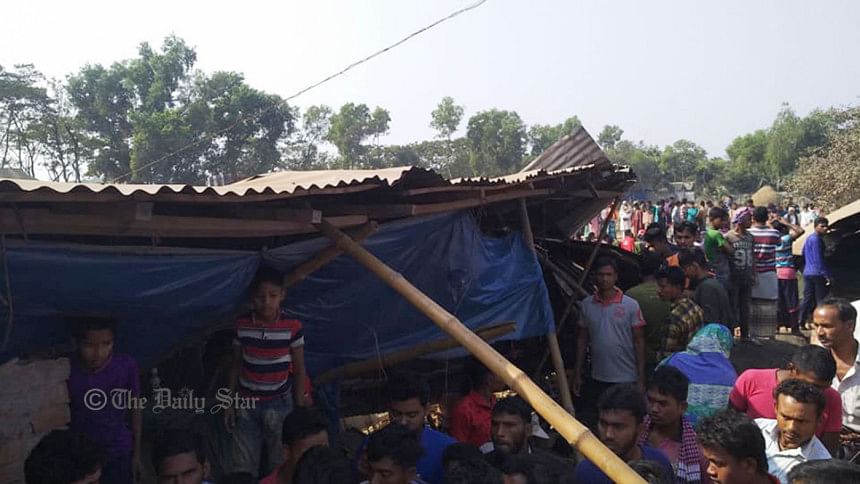 They are Ranjit Chandra Roy, 30, son of Suresh Chandra Roy; Torun Chandra Roy, 25, son of Manik Chandra Roy; Biplob, 19, son of Ram Prashad; Sankar Chandra Roy, 22, son of Kishor Chandra Roy; Dipu Chandra Roy, 19, son of Amal Chandra Roy; Amit Chandra Roy, 20, son of Kamakkha Chandra Roy; Morsalin, 18, son of Nur Alam; Md Masum, 18, son of Fazlul Karim; and Mohammed Selim, 28, son of Jahangir Alam.
The four other victims are from Shimulbari village under the same upazila.
They are Monronjon Roy, 19; Mrinal Chandra Roy, 21; Bikash Chandra Roy, 28; and Kanak Chandra Roy, 34.

PROBE COMMITTEES FORMED
Additional Deputy Inspector General (Chattogram range) of Police Abul Fayez and Deputy Commissioner of Cumilla Abul Fazal Mir visited the spot in the afternoon.
The DC announced a compensation of Tk 20,000 for each family.
The district administration formed a four-member committee and asked it to submit a report within seven working days.
Separately, Cumilla police set up a three-member committee to probe the incident and report its findings in three working days, said Cumilla Superintendent of Police Nurul Islam.