Four youths arrested for selling 'fake' question papers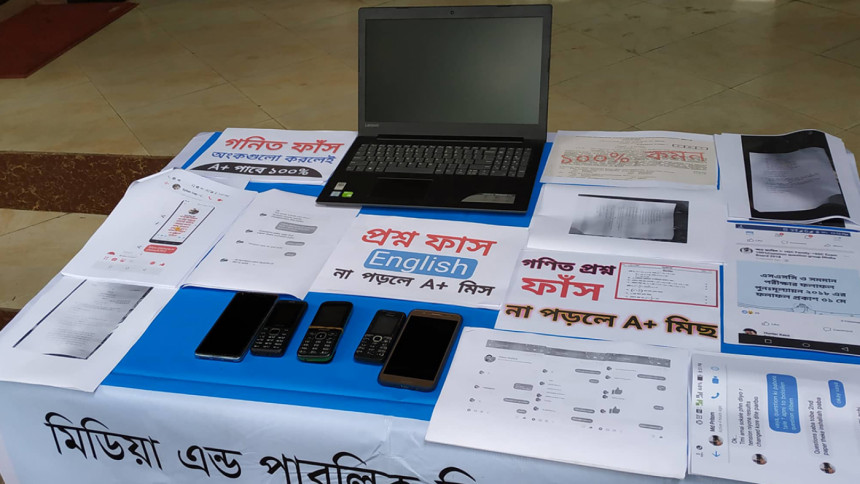 Police have arrested four youths for their involvement in selling "fake question papers" of the ongoing Secondary School Certificate (SSC) examinations and scamming people with promise of altering exam results.
A team of Detective Branch (DB) arrested the four in front of a hotel in Dhaka's Fakirapool area on Tuesday, Mashiur Rahman, deputy commissioner of DB (North), told The Daily Star.
The arrestees are: Abdullah Fahim (20), Shamim Ahmed (19), Nobin Ali (22) and a 17-year-old. A laptop, four mobile phones were also seized from their possession.
The information was disclosed at a press briefing at DMP Media Centre on Minto Road yesterday.
Of the detained, Fahim was arrested by Rab for the same offence last year, but again he got involved with the unlawful trade, said the DB official.
"Fahim had been doing this for a long time. He would tell people that he had access to leaked question papers of SSC exams, job tests and entry exams for medical colleges and universities," Mashiur Rahman said.
The gang members are all connected through social media; they used to create messenger groups three to four months prior to public exams, law enforcers claimed.
"First they provide suggestions, model questions and earn the confidence of examinees and their parents. Prior to the exam, they promised original question papers in exchange of money, but actually gave sample question papers by changing the exam year on the question paper set," the police official said.
Around 500 members were found in each social media group, he added.
After the exams are over, they set another trap claiming that they have contacts in the Education Board or that they can change results through hacking.
For question paper, they used to charge Tk 500 to Tk 3,000 and those who wanted their test results altered would be charged Tk 20,000 to Tk 30,000, according to DB officials.
The law enforcers are now looking for their associates -- Arman, Rimon and Shuvo -- who are on the run.