3 drug peddlers get life term jail in narcotics case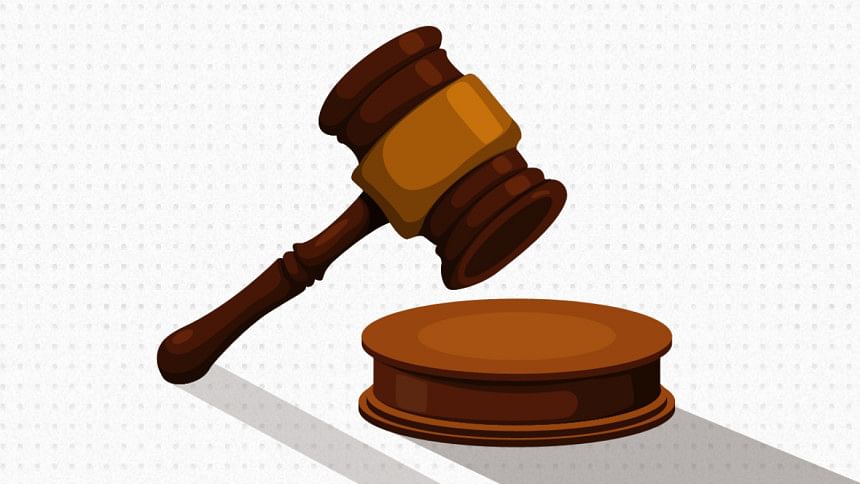 A Dhaka court today sentenced three drug peddlers to life in jail for possessing 2,300 bottles of phensidyl in 2005.
The convicts are: Omar Faruque alias Farurque, Md Khokon and Md Anwar Hossain.
They were also fined Tk 50,000 each, in default of which they will have to suffer one year more in the prison.
Another convict Md Jamal alias Rony was given two years' rigorous imprisonment for the same offence. He was also fined Tk 10,000, in failing he will suffer six months more in jail.
Of the convicts, Omar is still at large while three others were present at the court during the verdict announcement.
The punishment of the convicts will be effective from the day of their surrender or arrest.
Judge Dr Md Akhtaruzzaman of the Special Judge Court-5 of Dhaka handed down the sentence today.
The judge in his judgement said the convicts were given life in jail instead of death sentence considering their ages and circumstantial evidences.
Earlier, the prosecution and the defence completed their arguments and the court recorded statements of seven prosecution witnesses including complainant of the case.
According to the prosecution, it was alleged that a team of Narcotics Control Department raided at a house of Haji Babla at Nilkhet in the city's Dhanmondi at around 7:00pm on February 9 of 2005. The team arrested Md Jamal alias Rony with five bottles of phensidyl.
After getting information from him, the team also seized 2,295 bottles which were in possession of three others -- Omar, Khokon and Anwar.
Later a case under Narcotics Control Act was filed against the four with Dhanmondi Police Station. After an investigation, the Narcotics Control Department pressed charges against them on April 25, 2005.