Nation pays tribute to Rafiq Azad
The poet laid to rest at Martyred Intellectuals' Graveyard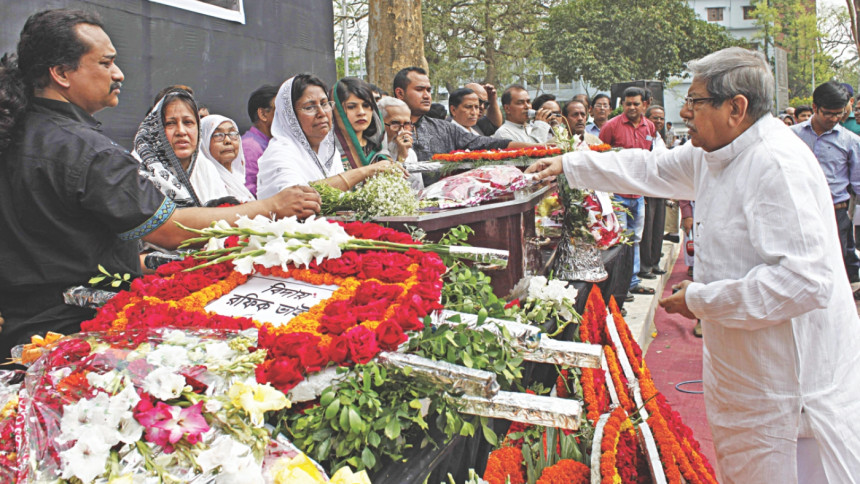 The nation yesterday paid the last tribute to the "poet of love and rage", Rafiq Azad, who had left his pen briefly and taken up arms for the freedom of his motherland in 1971.
Born on February 14, 1941 at Guni village in Tangail's Ghatail upazila, the 75-year-old breathed his last on Saturday after fighting for life for 58 days following a brain stroke.
Around 10:00am yesterday, his body was taken to the Central Shaheed Minar, where Sammilito Sangskritik Jote organised a tribute ceremony.
A guard of honour was performed in front of the coffin of the freedom fighter around 10:30am.
The crowd comprising cultural personalities, poets, ministers, politicians, and freedom fighters, observed one minute's silence in his honour.
"He had taken part in the Liberation War. Even after the war, he had continued to hold on to the spirit of struggle in establishing the rights of people," said Asaduzzaman Noor, minister of cultural affairs, adding that Rafiq Azad was a life-long fighter who spoke for people.
Azad's wife Dilara Hafiz, four sons Rahul, Rajib, Abboy and Ovinna Azad, friends and relatives were present at the ceremony.
Around 12:15pm, his body was taken to his former workplace Bangla Academy where he worked from 1972 to the mid-1980s.
The coffin was kept at the Nazrul Mancha under the old banyan tree on the Academy premises.
His colleagues, friends, and fans gathered around and paid tribute with flowers. Finance Minister AMA Muhith also paid homage to the poet there.
Freedom fighter  Humayun Kabir, who came to know the poet during the war, recited a poem and voiced the slogan of the independence movement "Joy Bangla".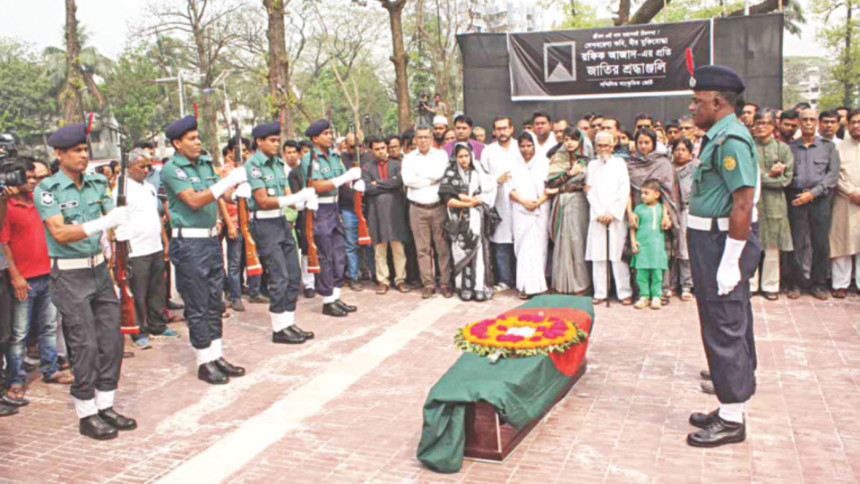 "He was a deputy director and also editor of the monthly Uttaradhikar, a literary publication of the Academy," Dr Shamsuzzaman Khan told The Daily Star.
He said the spirit of the war, freedom, humanity, and democracy in Azad's works made him the creator of extraordinary poetry.
For writer Rashid Haider, who was the poet's colleague in Bangla Academy for more than 12 years, waiting for his coffin to arrive at their former workplace was heart-breaking. "I came to know him after our admission to Dhaka University in the 1960s and have been friends since then," he recalled.
Poet-novelist Syed Shamsul Haq said, "The poet may die but his poetry lives on."
Writer Anwara Syed Haq noted that Azad lived a complete life, the way he always wanted.
Imdadul Haque Milon, novelist and editor of the Bangla daily Kaler Kantho, remembered the poet's contribution in grooming him up as a writer and a journalist.
"In 1976, he published my first novel 'Jabot-Jibon' in the monthly Uttaradhikar in 18 parts," said Milon, adding that how Azad, later in 1978, helped Milon get the job of a junior reporter at the weekly magazine "Robbar", where the poet worked as executive editor.
Poet Asad Chowdhury urged readers to read Azad's poetry. "If you read them, they will inspire you to write poetry."
Cultural personality Mamunur Rashid talked about the anger expressed in Azad's poems, which later turned into a style easily understood by the general people.  
The poet's son Ovinna said, "He was not just a father to us, he was an idol. He taught us how to love our country."
He recalled his father did not want to stay long in Canada when he went there to visit his son last year. "He used to say he misses Bangladesh's nature, bird song, and air. So he came back on December 14 and a month later suffered the stroke."
Ovinna said his father's last wish was to be buried in the country he so loved, and it was fulfilled.
Following his namaz-e-janaza at Dhaka University Central Mosque after Zohr prayers, the poet was laid to rest at Martyred Intellectuals' Graveyard in Mirpur yesterday afternoon.