Moghbazar flyover gets costlier by Tk 446.20cr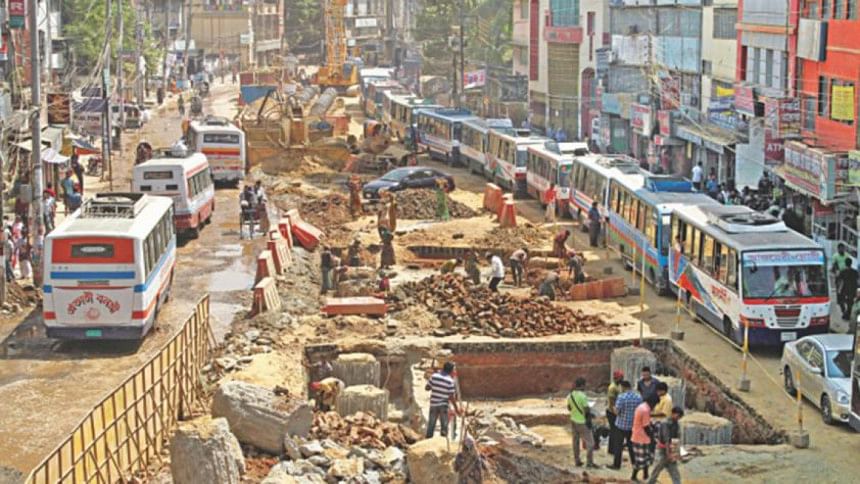 The Executive Committee of the National Economic Council (Ecnec) today approved revision of the Moghbazar-Mouchak Flyover Project with an extension of 18 months and increased cost of Tk 446.20 crore, raising the overall project cost to Tk 1,218.90 crore.
The approval was given at an Ecnec meeting held at the NEC conference room with Ecnec Chairperson and Prime Minister Sheikh Hasina in the chair.
Briefing reporters after the meeting, Planning Minister AHM Mustafa Kamal said a total of 10 projects were approved with an overall estimated cost of Tk 4,830.92 crore.
"Of the total project cost, Tk 3,603.38 crore will come from the national exchequer, while Tk 776.17 crore from project assistance and Tk 541.37 crore from the own funds of organisations concerned," he said.
Seven schemes are new while three have been revised, he said.
About the Moghbazar-Mouchak Flyover project, the minister said the project has been revised to cover more areas so that the city dwellers could avail themselves of maximum advantages from the flyover.
The project timeframe has been extended by another 18 months till June 2017 as its length has been extended through redesigning of its structure to make it more usable for easing traffic jam in the capital. "We've extended the length of the flyover by 450 meters and brought a few structural changes to make it more effective," the minister said.
Replying to a query, Mustafa Kamal said now the ramp of the flyover would be extended to Sonargaon intersection which was earlier supposed to end at FDC level crossing. "The prime minister has directed to extend the ramp of the flyover over the level crossing to facilitate more traffic easily," he said.
The 8.25-km flyover is being constructed in three parts -- from Holy Family Hospital to Tejgaon, from Kakrail to Rampura and from Mouchak to Banglamotor -- to ease traffic congestion between the capital's north and south parts.
Earlier, following a verbal directive from the Prime Minister's Office, a proposal was given to extend the flyover from FDC gate to Hotel Sonargaon on Tejgaon-Panthapath link road by 450 metres which will make the flyover an 8.70-km long one as well as facilitate vehicular movement over the Sonargaon level crossing.
Construction of the extended 450-metre flyover will cost Tk 85 crore.
The Saudi Fund for Development (SFD) and OPEC Fund for International Development (OFID) have already agreed to increase the amount of the project aid by $ 15 million and $ 6 million respectively.
Activities of the revised project include construction of the flyover, acquiring some 3,843.7 square metres of infrastructure and 40 decimal lands and purchase of two double-cabin pickups, three laptops and one desktop computer.
According to the Planning Commission the project's cost and deadline were increased because of huge presence of pipelines of different utility services, including 132KV high-voltage electric lines, gas pipelines, water pipe lines, storm waterlines, sewerage lines, BTCL cables and fiber optic cables.
Pot Bearing and Shock Transmission Unit will be installed in the flyover so that it can tolerate earthquake following advice of Buet experts.
The project work, which was scheduled to be completed within December 2015, started in 2013 instead of the original schedule in 2011.
Ecnec first approved the project on March 8, 2011 involving Tk 772.70 crore.
Meeting sources said Prime Minister Sheikh Hasina has directed the authorities concerned not to give permission for setting up new industries in Tejgaon industrial area. However, buildings could be set up there for conducting commercial operations.
The other projects approved by Ecnec are: Development of power distribution system, Rangpur Zone (TK 1334 crore), identification of valuable mineral in the sand of river and its economic assessment (TK 35.63cr), LED Light (CKD) assembling plant in ETL (TK 33.52cr), Construction of residential building for Justices of Supreme Court (TK 173 cr), Nilphamari-Jaldhaka road development (TK 66.34cr), Establishment of Shaheed M Mansur Ali Medical College and 500-bed Hospital in Sirajganj (TK 636cr), Establishment of Shaheed Kamruzzaman Textile Institute (TK 74.62cr), Small Farmer Development Foundation Assistance, 2nd phase (TK 64.10cr) and Development of Cox's Bazar Airport, 1st phase (TK 1193 cr).
Ministers and State Ministers, Planning Commission members, and secretaries concerned attended the meeting.