From ramp model to a militant commander
Neo-JMB commander Mehedi remanded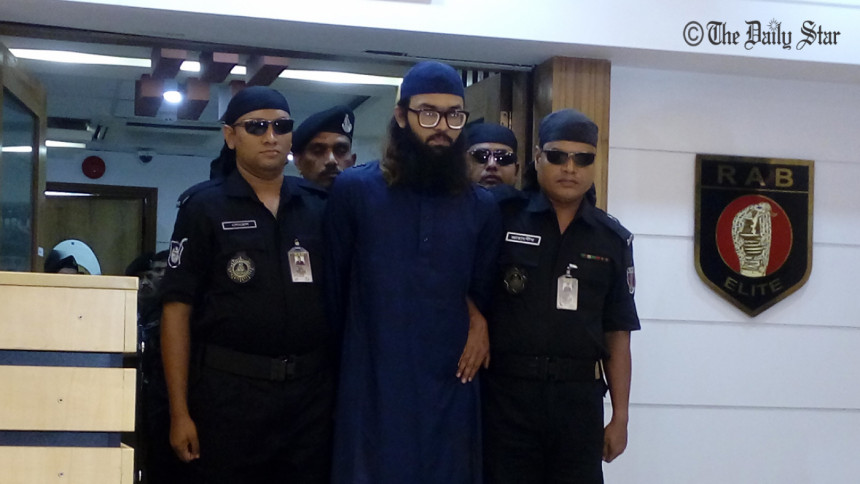 A Dhaka court today placed a suspected militant of the "Sarwar-Tamim Group" of the Neo-JMB on four-day remand in a case filed under the Anti-Terrorist Act.
Dhaka Metropolitan Magistrate Sadbir Yasir Ahsan Chowdhury passed the order after Assistant Superintendent of Police (ASP) Belayet Hossain, also the investigation officer of the case, produced Imam Mehedi Hasan alias Abu Jibril, commander of "Brigade Ad-Daraqutni" of the group" group, before the court seeking 10-day remand to interrogate him. 
Earlier, on Wednesday, members of Rapid Action Battalion (Rab) arrested Mehedi from Khilgaon in Dhaka, Lt Col Tuhin Mohammad Masud, commanding officer of Rab-3, said at a press briefing at Rab Media Centre in Dhaka's Karwan Bazar today.
Hailing from Patuakhali, Mehedi, a former ramp model, was engaged in efforts to regroup the organisation.
Mehedi, son of Md Khorshed Alam, had come to Dhaka in 2011 and had a brief career in ramp modelling, said his brother Waliur Alam. A BBA graduate from Darul Ihsan University, he ran a home decor business for some time.
Mehedi gave up his ramp modelling career due to complaint from his family, Waliur told The Daily Star. He went missing on May 4 and his mobile phone was shut since then. A general diary was filed with Khilgaon Police Station on May 5.
He is married and now expecting a baby. 
Under initial interrogation, Mehedi confessed to his involvement with JMB's Sarwar-Tamim group since 2015. He had connections with top militants including Holey Artisan attacker Nibras Islam, Rab said.