Khaleda taken to BSMMU
5-member medical board formed; BNP expresses displeasure, saying 3 docs on the board loyal to AL
BNP Chairperson Khaleda Zia was shifted to Bangabandhu Sheikh Mujib Medical University (BSMMU) from Dhaka's Old Central Jail for treatment yesterday, in line with a High Court order.
The BSMMU authorities formed a five-member medical board to assess her health condition.
Khaleda, 73, has been suffering from problems in the knees and other ailments for long, according to government doctors who treated her since she landed in jail on February 8 in a corruption case. Her personal doctors who met her in jail said she suffered a "mild stroke" on June 5. 
Soon after her arrival at the BSMMU around 3:40pm, hospital Director Brig Gen Abdullah Al Harun met the former prime minister at her VIP cabin along with other senior doctors.  
The medical board will decide on the duration of her stay in the hospital, he told reporters later in the evening, adding that the team would hold a meeting at 1:00pm today to discuss her treatment.
Other doctors may be included in the team if Khaleda wants, said the director.
Khaleda will continue to take her previously prescribed medicine until the medical board recommends otherwise, he later told The Daily Star by phone.
Earlier in April, Khaleda was taken to the BSMMU for checkups.
Her admission at the BSMMU comes two days after the HC ordered the government to immediately take the BNP chief to the public health facility.
On Thursday, the HC also asked the authorities to set up a medical board headed by Professor Abdul Jalil Chowdhury, of internal medicine, and Associate Professor Badrunnesa Ahmed, a physiatrist, of BSMMU.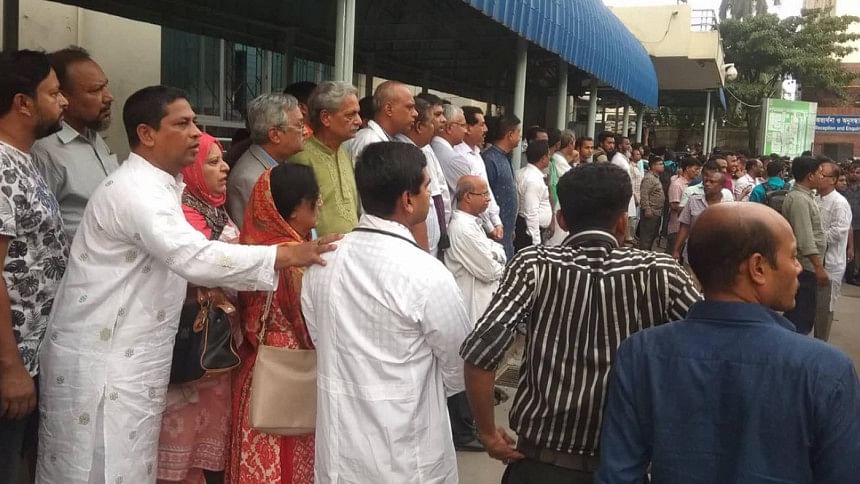 The board cannot have any current or former members and supporters of Swadhinata Chikitsak Parishad, a pro-Awami League doctors' organisation, or from Doctors Association of Bangladesh (DAB), a pro-BNP physicians' platform, the court ruled.
Apart from Professor Abdul Jalil and Associate Professor Badrunnesa, other members of the medical board are Prof Sajal Krishna Banerjee of cardiology, Prof Nokul Kumar Dutta, of orthopedic surgery, and Syed Atiqul Haq, of rheumatology.
The BNP had been demanding Khaleda's treatment at a specialised hospital. They even named United Hospital as a preference.
Meanwhile, BNP leaders and physicians belonging to DAB expressed their dissatisfaction over the medical board formed by the BSMMU authorities.
"We expected that Khaleda Zia would be treated at a specialised hospital by her preferred doctors. But our expectation has not been met," BNP Secretary General Mirza Fakhrul Islam Alamgir told reporters at the party's central office at Nayapaltan.
​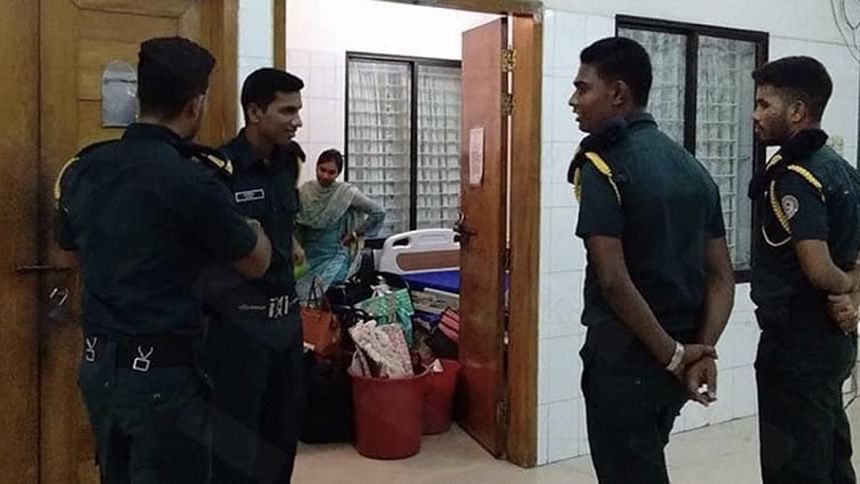 Earlier in the day, Dr AZM Zahid Hossain, secretary general of DAB, alleged that at least three doctors of the medical board were from Swadhinata Chikitsak Parishad.
Besides, the board was formed before Khaleda reached the hospital, which goes against her wish, he told The Daily Star.
"We doubt if Khaleda will get proper treatment from this medical board," he said. 
Khaleda will stay in VIP cabin no 612 on the sixth floor. Another cabin, 611, has also been allotted for her so prison guards or her attendants may stay there, hospital sources said.
Her two-bed cabin has air conditioning, a television set and attached bathroom.
Soon after the news broke that Khaleda would be brought to the BSMMU, journalists and BNP leaders started gathering in front of the prison gate and the hospital gate since noon.
Law enforcers began to arrive at the hospital after 12:00pm and traffic in the area was slowly brought to a halt after 2:00pm.
A Dhaka Metropolitan Police car carrying Khaleda came out of the prison around 3:10pm and it reached the BSMMU around 3:40pm, said Ibrahim Khan, deputy commissioner (Lalbagh Division) of DMP.
Two Rab vehicles, seven police and fire service vehicles and an ambulance were also in the motorcade to ensure security, witnesses said.
Domestic aide Fatema Begum, who attends to Khaleda in jail, was with her.
Many BNP leaders and activists were at the hospital to see Khaleda, but policed stopped them from getting near her. Some activists of Mohila Dal, BNP's women front, chanted slogans demanding her release from prison.
Several BNP leaders, including Mirza Fakhrul and Standing Committee members Moudud Ahmed and Mirza Abbas, were also present on the hospital premises. After 4:00pm, police forced the BNP leaders out.
Krisna Pado Roy, additional commissioner of DMP, said they took all possible steps to ensure Khaleda's security.
In its order, the HC asked the authorities to examine Khaleda's health and start her treatment by a freshly formed five-member medical board.
The court said Khaleda's physiotherapy and diagnosis should be done as per her choice and that she could engage any physician outside the BSMMU in her treatment with approval from the medical board.   
The bench of Justice Sheikh Hassan Arif and Justice Razik-Al-Jalil gave the order following a writ petition filed by Khaleda, seeking the court's directive on the government to send her to a specialised hospital.
Earlier on September 13, the government had formed a medical team, led by Prof Abdul Jalil Chowdhury, for examining her health condition.
Other members of the team were cardiologist Prof Harisul Haque, orthopedic surgeon Prof Abu Zaffar Chowdhury, ophthalmologist Associate Professor Tariq Reza Ali and physiatrist Associate Professor Badrunnesa Ahmed of BSMMU.
During the hearing on the petition on October 3, Khaleda's lawyer AJ Mohammad Ali told the court that the government had formed the medical board with doctors from Swadhinata Chikitsak Parishad. As a result, Khaleda may not get proper treatment from that board.
He appealed to the HC to direct the government to send Khaleda to United Hospital as per her choice.
Attorney General Mahbubey Alam opposed the petition, saying the jail authorities had taken steps for her treatment.