2nd Anniversary of Killing
Justice demanded for Tonu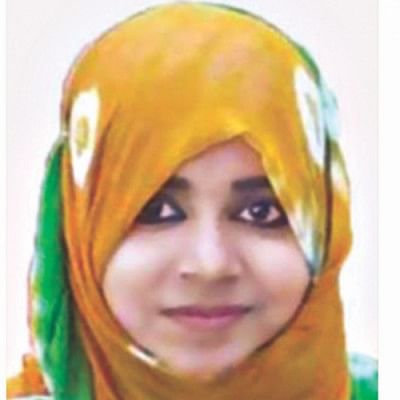 A solidarity rally was held in the capital yesterday, demanding justice over the killing of Sohagi Jahan Tonu and abduction of two Marma sisters in Rangamati.
Under the banner "Nipiraner Biruddhe Nagarikbrinda", the rally was held in front of the National Museum.
Demanding justice to the prime minister, Advocate Salma Ali said, "Women in our country do not get justice. Tonu's parents are yet to get justice even after two years of her killing."
Former Chhatra Union president Sharifuzzaman said the government is more interested in prosecuting the Comilla bus sabotage, not the murder of Tonu.
"They are more interested in defending against political parties than prosecuting the murder of Sagar-Runi. This proves that justice depends on the will of the government in our country," he added.
Advocate Jibananda Jayanta, publisher Robin Ahsan, Chhatra Union General Secretary Liton Nandi and Ganajagaran Mancha activists Asaduzzman Masum and Akramul Haque also spoke among others.
Meanwhile, Bangladesh Chhatra Union brought out a torch procession on Dhaka University campus, demanding justice for Tonu.
Starting from the Teacher-Student Centre, the procession marched through different streets on the campus.
Tonu, a second-year history student of Comilla Victoria College and a member of Victoria College Theatre, was found dead at Comilla Mainamati Cantonment on March 20 in 2016 after she went out of her residence for private tuition.
In Comilla, students of Comilla Victoria College including Tonu's classmates of history department formed a human chain, protesting the slow pace in investigation of Tonu's killing, reports our Comilla correspondent. 
The students, wearing black badges, gathered in front of the Bangabandhu mural at the administrative building of the college.
Speaking with this correspondent, Tonu's mother Anwara Begum, who has been suffering from various illnesses, said, "Tonu's friends [classmates] haven't forgotten her. They have been demanding justice for Tonu since the murder.''