World's largest Indian visa centre inaugurated in Dhaka
5,000 visas to be issued everyday; existing e-token system withdrawn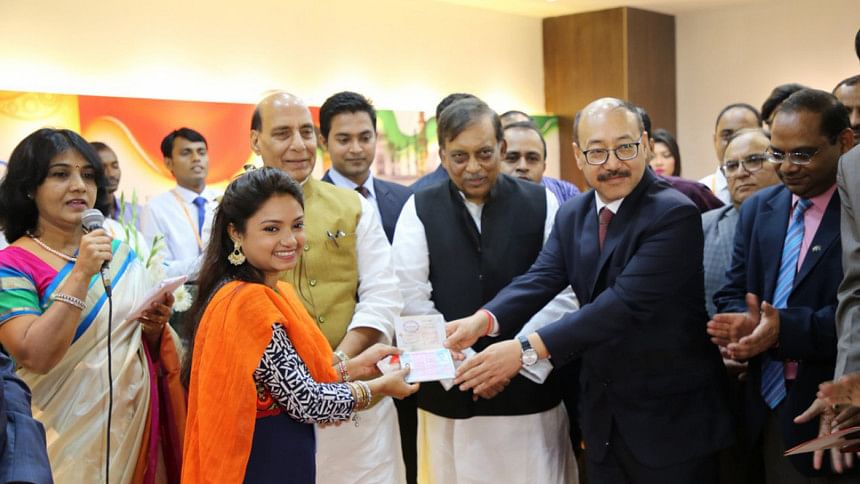 A new integrated state-of-the-art Indian Visa Application Centre (IVAC), the largest ever Indian visa centre in the world, was inaugurated at Jamuna Future Park (JFP) in Dhaka today.
Indian Home Minister Rajnath Singh along with his Bangladesh counterpart Asaduzzaman Khan formally opened the centre by handing over passports with Indian visas to a couple of visa applicants.
Special Secretary (Border Management), Indian Ministry of Home Affairs, Braj Raj Sharma, Indian High Commissioner in Dhaka Harsh Vardhan Shringla and Jamuna Group Chairman Nurul Islam Babul were present among others.
The Indian home minister handed over a five-year multiple entry tourist visa to Mohammad Nazrul Islam (freedom fighter category), while the Bangladesh home minister handed over a five-year multiple entry tourist visa to Amal Chandra Natta (senior citizen category), the High Commissioner handed over a one-year multiple entry tourist visa to Jannattul Ferdous and Special Secretary (Border Management) handed over a six-month triple entry medical visa to Begum Sharifa (going to Bengaluru for medical treatment) marking the inauguration of the new IVAC.
১৪ জুলাই ২০১৮ ভারতের মাননীয় গৃহমন্ত্রী শ্রী রাজনাথ সিং এবং বাংলাদেশের মাননীয় স্বরাষ্ট্রমন্ত্রী আসাদুজ্জামান খান যৌথভাবে ঢাকার যমুনা ফিউচার পার্কে একটি নতুন সমন্বিত ও অত্যাধুনিক ভারতীয় ভিসা আবেদন কেন্দ্র উদ্বোধন করেন। pic.twitter.com/hmkzrLsLoQ

— India in Bangladesh (@ihcdhaka) July 14, 2018
Talking to reporters after the inauguration, Shringla said the High Commission in Dhaka issued 14 lakh visas last year.
He said the new integrated visa centre with all the facilities in place will issue on average 5,000 visas every day and the visa applicants will be treated as guests.
The High Commission issued 9.76 lakh visas in 2016 and today Bangladeshi people constitute the largest number of visitors to India.
Later, they enjoyed a folk dance performance there.
The existing e-token (appointment) system for submission of Indian visa applications will simultaneously be withdrawn from Sunday (July 15).
This new IVAC at JFP will replace all the existing IVACs (Motijheel, Uttara, Gulshan and Mirpur Road) in Dhaka in two phases.
The new IVAC in JFP will replace the existing IVACs in Motijheel and Uttara from July 15.
The remaining two IVACs in Dhaka (Gulshan and Mirpur Road) will also be shifted to IVAC, JFP by August 31.
There will, thereafter, be only one IVAC at JFP for all categories of visa applications without prior appointment in Dhaka.
The new IVAC in JFP is a model visa centre, said the Indian High Commission in Dhaka.
Located in an 18,500 square feet commercial area, the IVAC will have facilities like computer-generated token vending machines (expected waiting time will be indicated), comfortable seating arrangements in an air-conditioned waiting area, coffee and soft drinks vending machines, food kiosks and as many as 48 countries for the submission of applications.
Separate counters will be kept reserved for senior citizens, women, muktijodhas and business applicants.
A special helpdesk and counter for services, including printing, photocopying etc. will be accessible at cost prices.
The location of the new IVAC inside a spacious and secure shopping mall is expected to provide comfortable and seamless visa services to applicants and is expected to reduce waiting time considerably.
The consolidation of visa application services at the JFP and the provision of amenities, reflect the continuing efforts of the High Commission of India, in collaboration with its outsourced partners, the State Bank of India, to further streamline the Indian visa application process and strengthen people-to-people contacts between India and Bangladesh.