Indian home boss arrives in Dhaka
To meet PM today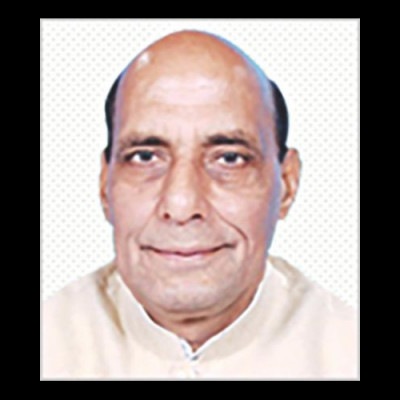 Indian Home Minister Rajnath Singh arrived in Dhaka yesterday on a three-day visit to discuss expanding cooperation, strengthening ties and exploring ways to boost the India-Bangladesh joint anti-terror mechanism.
Home Minister Asaduzzaman Khan received his Indian counterpart at Bangladesh Air Force Base Bangabandhu at 6:00pm upon his arrival by a special aircraft. Indian High Commissioner to Bangladesh Vardhan Shringla and other high officials were present to welcome him.
Singh would begin his official programmes by calling on Prime Minister Sheikh Hasina at the Gono Bhaban at 10:00am today.
He is scheduled to travel to Bangladesh Police Academy at Sardah in Rajshahi where the two home ministers would jointly inaugurate Bangladesh-India Friendship Building today. They would sign a Memorandum of Cooperation (MoC) between the two national police academies for training and cooperation between the two forces.
The Indian minister is also expected to visit Bangabandhu Museum tomorrow and then co-chair with his Bangladesh counterpart the sixth meeting of the India-Bangladesh Home Minister Level Talks at the secretariat at 10:30am today.
Singh, who is accompanied by senior officials of his ministry and the top brass of the Border Security Force (BSF), would also hold crucial meetings with his Bangladesh counterpart. The ministers are expected to discuss issues related to security, border management, cooperation in countering illegal activities, and sign the Revised Travel Arrangements 2018.
The two home ministers would also jointly inaugurate a new integrated state-of-the-art Indian Visa Application Centre (IVAC) at Jamuna Future Park (JFP) at 11:30am.
The new IVAC in JFP would replace the existing IVACs in Motijheel and Uttara from July 15. The remaining two IVACs in Dhaka (Gulshan and Shyamoli) would also be shifted to IVAC, JFP by August 31.
There will be only one IVAC at JFP for all categories of visa applications without prior appointment in Dhaka, according to the High Commission of India (HCI).
The new IVAC at JFP would be a model visa centre on an 18,500-square-foot commercial area with facilities like computer-generated token vending machines, comfortable seating arrangements in an air-conditioned waiting area, coffee and soft drinks vending machines, food kiosks and as many as 48 counters for submission of the applications.
Separate counters would be reserved for senior citizens, women, freedom fighters and business applicants. A special help desk and counter for services, including printing, photocopying, etc would be accessible at cost price. 
The location of the new IVAC inside a spacious and secure shopping mall is expected to provide comfortable and seamless visa services to applicants and is expected to reduce waiting time considerably, the HCI said in a press release yesterday.