Iftar fest at DU TSC
Brings everyone together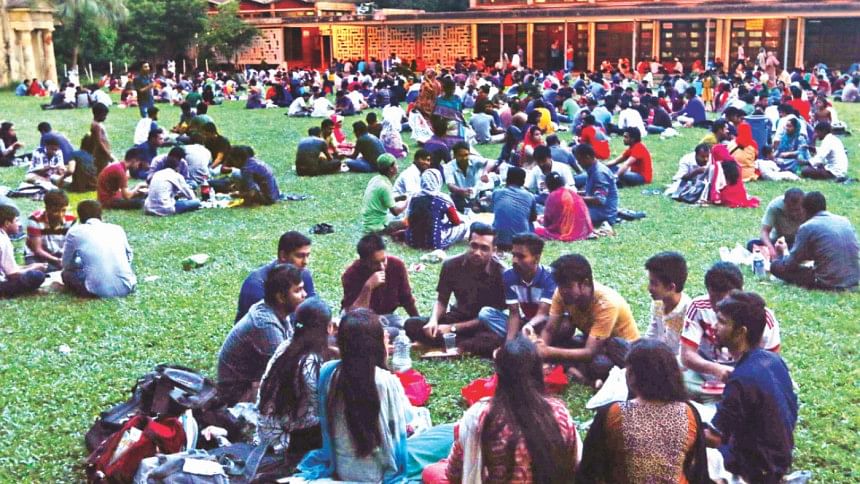 Students in small or large groups, sitting on a green field under the open sky to break their fast during Ramadan have become a regular scene at the Teacher-Student Centre of Dhaka University.
There is hardly any space left in the early evening as youngsters throng the field, corridors and footpaths. Students from different institutions also gather there to have Iftar. Various cultural, social and political organisations also arrange Iftar parties amid festivity.  The smell of piyaju, beguni, mouth-watering jilapi and other delicacies also amplify their enjoyment.
Many students enthusiastically buy traditional Iftar items from Old Dhaka and bring those with them to share with each other. Some female students also bring Iftar from their residential halls or hostels for their friends.
Youths gather in the area after completing their Eid shopping from New Market, Chandni Chawk, Aziz Super Market and nearby areas.
Traders also pass a very busy hour preparing Iftar items in hundreds of makeshift shops on the DU campus. Many put up a table in front of their stalls and sell Iftar delicacies. Staff of residential hall canteens, food shops and tea stalls become Iftar vendors to earn extra money during Ramadan.
"Iftar gives us a great opportunity to hold our meetings and strengthen our bonding. We do not miss any chance of having Iftar here," said Sanzida Zaman, a student of Home Economics College and the general secretary of Youth Club Bangladesh, who was sitting at a corner of TSC cafeteria with the members of the organisation.
Students of other religions and community throng the campus to have Iftar with their friends on the courtyard inside TSC.
Banaful, a fourth-year student of Dr Sirajul Islam Medical College, said "Though I am not a DU student, I often come here with my friends. To me, Iftar is about harmony. It strengthens brotherhood within all community."
Wahida Zaman Shithi, a third-year student of mass communication and journalism, said, "Every year our batch mates organises Iftar here, we sit around and put all of our Iftars on newspapers and eat together." "It tastes so good compared to any big restaurant," she smiled, adding, "Not to mention we also take selfies to cherish the moment."
Dhaka University campus is not only for students to enjoy Iftar. Sohrab Mirza, a banker and also an alumnus of DU, came with his wife and two kids. "I have so many memories here," said a nostalgic Sohrab, who was showing his children the TSC area.
Other places like Hakim Chattar, Memory Eternal, the arts and business studies faculties, Madhur Canteen, Curzon Hall and law faculty premises also remains abuzz with people.
Many students who are away from home and miss their families always become cheerful during Ramadan since they make new friends and families while sharing the warmth of breaking fast as part of a DU family at TSC.