A human rights icon
Speakers tell discussion on Asma Jahangir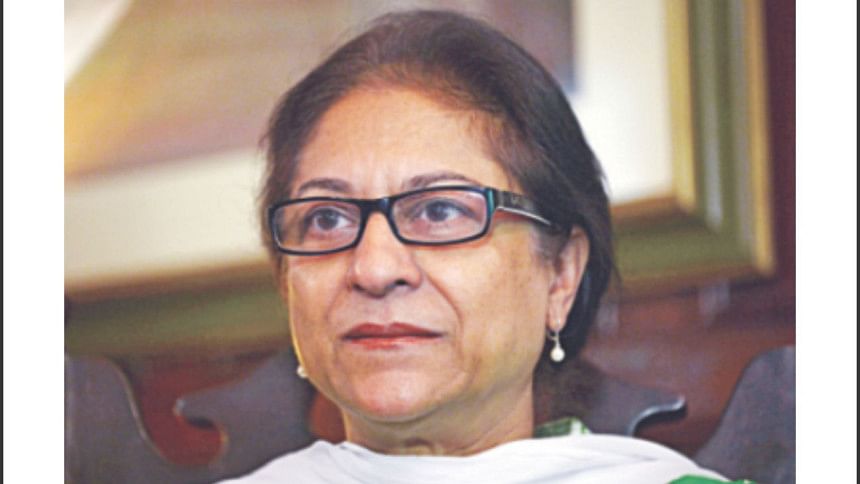 Asma Jahangir was an iconic human rights defender who was revered throughout the world, said noted lawyers and human rights activists at a commemorative discussion in the capital yesterday.
She had been an inspiration for those who are fighting for human rights and democracy and against extremism today, they said.
The speakers made the remarks at her commemoration organised by South Asians for Human Rights (SAHR) at the Liberation War Museum in the capital.
Asma's father, Malik Ghulam Jilani, was arrested in 1971 for denouncing the Pakistan army for their atrocities and genocide in the then East Pakistan during Bangladesh's Liberation War in 1971, said veteran jurist Dr Kamal Hossain.
Aged only 18, Asma protested the arrest by filing a case and later she became vocal for trial of Pakistani generals who had committed genocide in Bangladesh. She also demanded that the Pakistani authorities make apologies to Bangladesh for committing crimes against the Bangalees, he said.
Asma, a widely acclaimed Pakistani human rights defender and lawyer, passed away in Lahore at the age of 66 on February 11.
Noted economist Rehman Sobhan highlighted Asma Jahangir's bold and uncompromising stance, saying that she never wavered in her struggle against military rule, extrajudicial killings and extremism.
Noted human rights activist Sultana Kamal said Asma throughout her life stood by people in distress.
Advocate Sigma Huda and daily Prothom Alo editor Matiur Rahman spoke among others.