Govt signs deal to send 15 lakh workers to Malaysia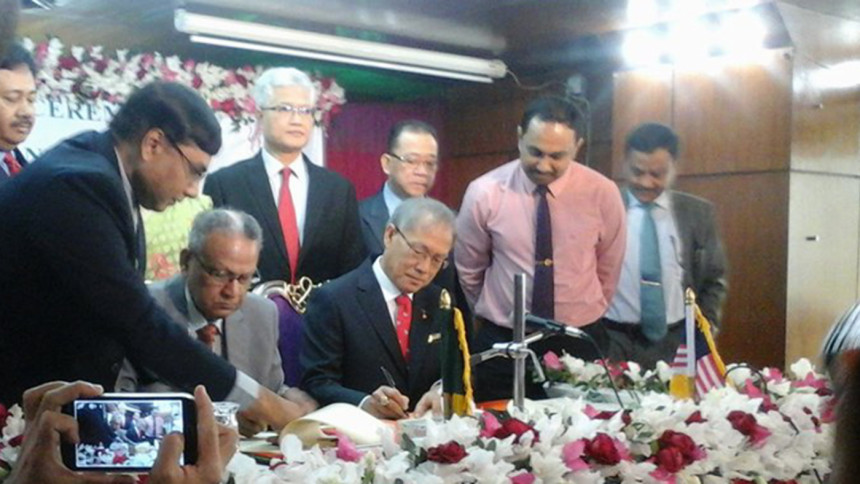 Bangladesh today inked a deal with Malaysia to send 15 lakh workers there in three years under government-to-government (G2G) Plus system.
Bangladesh Expatriates' Welfare and Overseas Employment Minister Nurul Islam and Malaysian Human Resources Minister Richard Riot Anak Jaem signed the MoU at Dhaka's Expatriates' Welfare office at 10:00am.
ALSO READ: 15 lakh to get job in 3 years
Under the deal, Bangladeshi labours will be recruited in almost all the sectors including services, manufacturing, construction and plantation sectors there.
The recruitment will be fair and transparent, said the Malaysian HRD minister responding to the reporters' queries after the occasion.
The minimum wage for the workers will be around Tk 15,000 (MYR 800-900), he said hoping that the deal will be implemented soon.
Bangladesh and Malaysia signed this new deal following the failure of the government-to-government (G2G) labour recruitment system. Only 10,000 Bangladeshi workers have so far been sent to Malaysia under the G2G since it was launched in 2012.
The cabinet on February 8 approved a draft deal to allow Bangladeshi private recruiting agents to send workers to Malaysia.
Malaysian employers would pay for workers' security deposits, levies, visa fees, and health and compensation insurance.