Ganges Barrage Project blessing for country
Say experts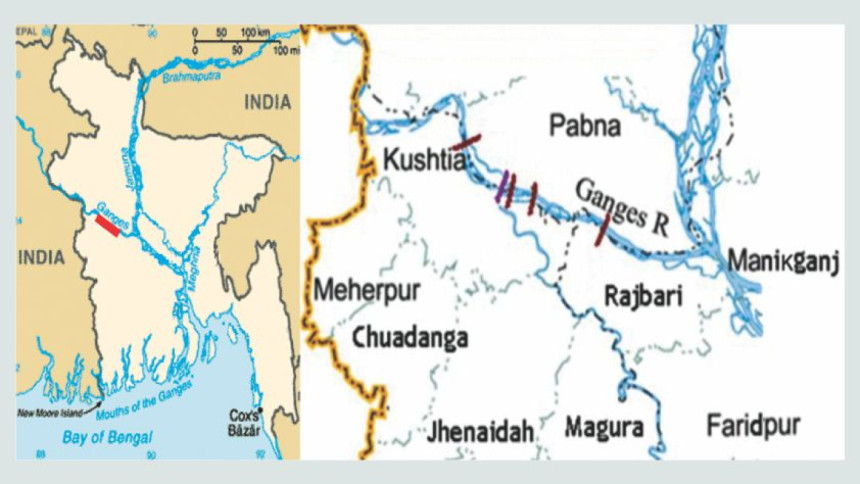 The proposed Ganges Barrage Project will be a blessing for Bangladesh since the country is a low riparian area facing water-related problems, according to experts.
Noted water expert Prof Ainun Nishat said the Ganges Barrage Project should be implemented as soon as possible to protect the country's south-western region, including the Sundarbans.
The government has already completed the feasibility study and design of the proposed 2.1km long Ganges Barrage Project at Pangsha of Rajbari, some 98km downstream from the Farakka Barrage built in the Paschimbanga state of India.  
The proposed project has a reservoir to augment the flow of water and its equal distribution, in both dry and wet season, over the Ganges dependent area. The project will meet the demand of the Ganges water for agriculture, fisheries, ecosystems and navigation, experts and officials say.    
Director (water resources) of Dhaka-based Centre for Environmental and Geographic Information Services M Sarfaraz Wahed said Bangladesh will benefit from the project in all aspects -- salinity will be reduced considerably and all dead rivers of the region will be recharged after implementation of the project.
He said the Gorai river system with its augmented flow will provide an improved navigational route to and from Mongla, the country's second seaport.
Environmental expert Dr Atiq Rahman said the Ganges Barrage is a long-standing project which has been discussed in the last several decades.
"Obviously, Bangladesh will benefit from the project but it's necessary to conduct vigorous environmental, social and climate impact assessments before implementation of the project," he said.
Official sources said the increased water flow through the Hisna-Mathabhanga, Gorai-Modhumati and Chandana-Barasia systems will reduce environmental degradation in the Ganges dependent area. The surface water salinity will be reduced due to increased upstream water flow.
About US$4 billion is needed to implement the Ganges Barrage Project, but the annual incremental benefit of the project will be Tk 7,340 crore, which means the cost of the barrage project will be returned within five years, they claimed.
According to the feasibility study, once the project is implemented, agricultural production in the Ganges dependent area will increase while additional paddy production would be about 26 lakh metric tonnes, minimising the loss of paddy significantly. Additional fish production would be about 2.4 lakh metric tonnes.