Fraud gang busted, 13 held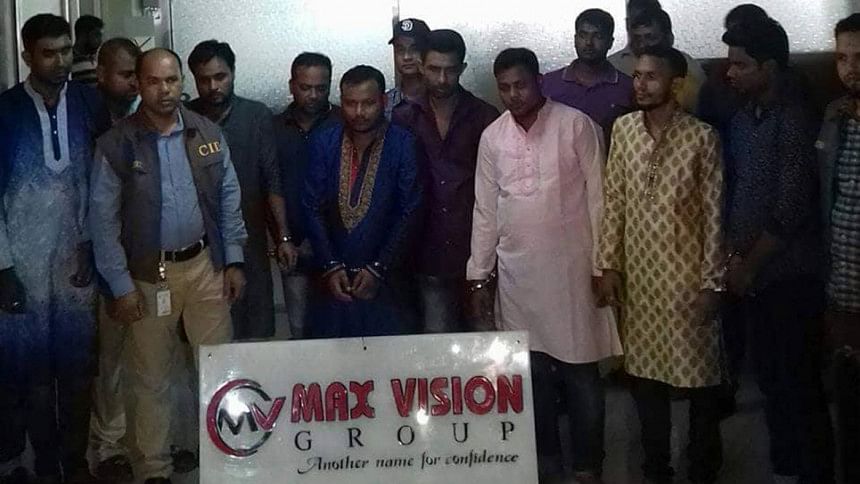 The Criminal Investigation Department (CID) today claimed to have busted a fraud gang in Dhaka and arrested its 13 members for allegedly collecting money from people in the name of providing job. 
The arrestees are Adnan, 40, Alamgir, 43, Jahurul, 42, Khaled, 32, Rahmat, 21, Hafizur, 29, Insan, 37, Sirajul, 35, Nadim, 31, Mehdi, 21, Hanif, 45, Mamunur, 38, and Sohag. 
Tipped off, a team of CID's organised crime unit launched a drive yesterday and arrested 13 men of the gang while they were inaugurating a new office "Max Vision Group of Companies Ltd," Molla Nazrul Islam, special superintendent of CID, said today.
They were also accused for seven cases filed with Ramna, Gulshan and Paltan Police Stations over fraudulence, he said at a briefing held at CID headquarters in the capital.
Opening offices in the name of reputed and famous companies in Dhaka's corporate areas, the gang used to give fake advertisement in daily newspapers for recruiting employees, said Molla Nazrul Islam.
Later, the fraudsters used to collect money from the victims in the name of security money, pension scheme and private car after providing them with fake appointment letters, he said.
When the job seekers used to come to the office on the joining date, they would find the office gate locked and the mobile phone numbers of the fraudsters switched off, said the CID official. 
After receiving complaints about the gang, the CID team managed to bust the gang and arrest its members.
The gang opened several fake companies, including Fortune Group of Companies Ltd, Rexon Group of Companies Ltd, Eastern Group of Companies Ltd, Keya Group of Companies Ltd, Nexus Group of Gompanies Ltd, Sunlight Group of Companies Ltd, and Max Vision Group of Companies Ltd since 2013, he added.