Father helps Rab arrest 'JMB militant' daughter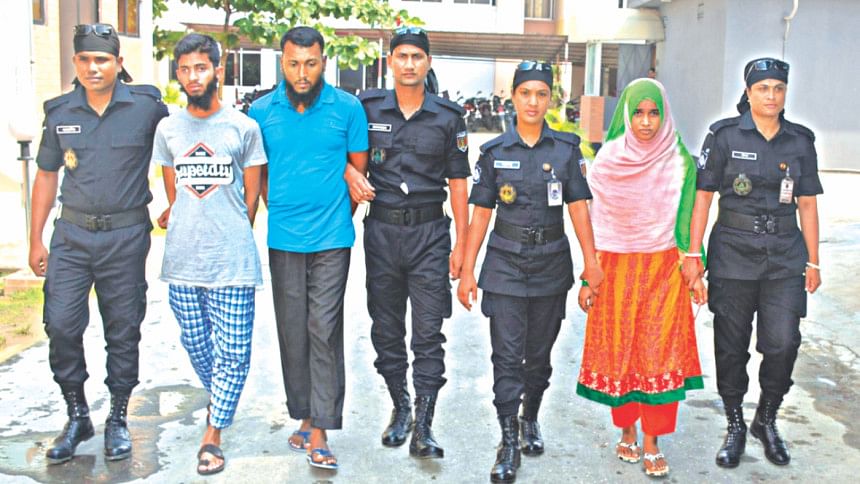 It was information from the family that helped the Rapid Action Battalion arrest a female "JMB militant" from Narayanganj on Tuesday night, more than two weeks after she had left home to get involved in militant activities, Rab said.
Jannatul Nayeem Mitu, 19, also tried her level best to radicalise her husband Jewel Hossain. Failed, she left the family in Sonargaon along with her two-year-old daughter on March 31.
This prompted Nurul Islam, her father, and Jewel Hossain, her husband, to complain to Rab about her militant and anti-state connections.
On Tuesday, a Rab team carried out a raid and arrested Mitu along with her two associates from Sonakanda area in Bandar upazila of the district, said Lt Col Kamrul Hasan, commanding officer of Rab-11, at a press briefing at its headquarters in Narayanganj yesterday.
Rab handed over the child to the family.
Her associates are Mehedi Hasan Masud, 22, of Chittagong's Raojan, and Akbar Hossain Sumon, 30, of Noakhali's Hatia, Rab said.
"Just a couple of days before leaving home, she was not acting normal. We suspected that something was wrong… When she left home with the child on March 31, we went through her stuff and found some materials which provoke extremism," her father Nurul Islam told The Daily Star yesterday over the phone.
The family filed a general diary with Sonargaon Police Station on March 31. "Later, we went to Rab and informed them about her," he added.
"I hope no other father has to file such a complaint against his daughter. Strict punishment should be given to those who radicalise others," said the father.
Commanding Officer Kamrul said Mitu got acquainted with Masud in July 2016 through Facebook.
Masud supplied her extremism provoking sermons of militant leader Jasimuddin Rahmani, urging her to work for the oppressed Muslims across the world. Rahmani is now in jail.
She also agreed when Masud asked her to sacrifice herself by fighting the government and its forces, the Rab official said.
Later, she started circulating extremism provoking images and video clips using her two fake Facebook Ids -- "Esho Allahr Pothe" and "Alor Poth Islam".
She intended to leave her family and accept "martyrdom for the sake of Islam", failing to radicalise her husband. She had planned to divorce her husband and marry Sumon as per the outfit's decision, Rab said.
As part of the plan, she left home on March 31 for Chittagong where Masud and Sumon arranged a house for her. The trio soon returned to Narayanganj to recruit fresh operatives in Narayanganj, Comilla and Dhaka.
According to Rab, Masud converted into Salafism through one Sami Bhai in 2005. He visited Narayanganj several times this year to recruit operatives. He used to give sermons in the meetings and met Mitu several times.
Sumon got acquainted with Masud in late 2016 while working as a sales manager of a food product company.
Sumon got radicalised by Masud and joined JMB. He has so far recruited 10 people to the militant outfit, Rab said.
2 JMB MEN JAILED FOR 20YRS
Meanwhile, a Narayanganj court yesterday sentenced two JMB men to 20 years' imprisonment each and fined them Tk 20,000, in default, to serve six months more in jail.
Judge Md Abdul Hannan of Special Tribunal-7 in Narayanganj gave the order in a case filed under the explosives act with Sonargaon Police Station.
The convicts are -- Saiful Islam, 33, and Mofizul Islam, 31, -- hailing from Narayanganj district.
SM Wazed Ali Khokhon, public prosecutor of Narayanganj court, said Rab arrested Saiful from Tangail on December 29 in 2006 along with a huge amount of arms and explosives.
Based on his information, Rab carried out a raid at Mofizul's house in Sonargaon of Narayanganj and arrested him. They also seized 19 hand grenades and bomb making materials from his possession.