Workers deserve better protection
And increased disaster compensation, Brac seminar told on eve of Rana Plaza tragedy anniversary; $34 million paid so far, claim authorities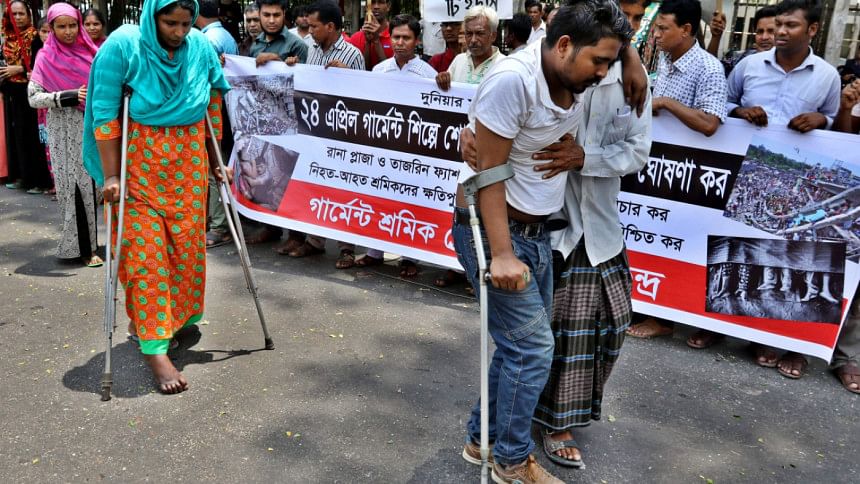 The government should establish a strong legal protection and permanent framework to ensure adequate compensation for the victims of factory disasters, experts said yesterday.
They spoke at a seminar in the capital's Spectra Convention Hall, organised by Brac, on the eve of the third anniversary of the Rana Plaza tragedy.  
Three years ago, on April 24, the Rana Plaza building collapsed, crushing workers underneath and drawing the world's attention to the safety concerns. The country lost at least 1,136 lives, and 2,438 were injured and scarred forever.
US Ambassador Marcia Bernicat said it is important to remember the human cost of that day.  
"We can never make those who survived such a tragedy whole again. But we can do our best to avoid such a tragedy...the United States has done everything it can to ensure Bangladesh workers are protected by strong occupational safety and health standards," she said.
Brac sent teams to the site where they supported medical teams, provided water, helped in the search, and assisted in long-term psychosocial counselling and providing  prosthetics and vocational training. 
In case of calculating compensation, the physical and psychological damages, necessity of treatment, age, the number of dependents, scope for thriving in profession and increasing live expectancy, have to be taken into consideration, said Brac in a statement, adding, workers must have rights to give opinions on the question of workplace safety.
Bernicat said the US has provided $1.5 million to the International Labour Organisation (ILO) to improve fire and building safety in Bangladesh, under a programme that has provided training, materials, and policy support to the Department of Inspection for Factories and Establishments and the Office of Civil Defense.
The US also provided $1 million to Bangladesh Workers Solidarity Centre to train workers on fire and building safety.
The ambassador said it is vitally important for workers to have a strong and powerful voice.
Mojtaba Kazazi, executive commissioner of Rana Plaza Claims Administration, said the committee has completed compensation related work, and settled 2,895 claims.
The claims have been settled under the ILO convention, he said, adding that the Claims Administration, the Prime Minister's Office and Primark together provided $34 million in compensation.
Kazazi said in case of fixing compensation, the loss of income and the treatment cost have been taken into account but not the long-term loss.
Tuomo Poutiainen, programme manager for garment sector at the ILO's country office, said there is no alternative to strictly implementing the laws in order to curb the frequency of accidents at factories.
"Steps enshrined in the law to create congenial working environment have to be implemented properly. A framework or institution has to be created so workers can voice their safety concerns and their objections are duly addressed," said the ILO official.
Md Enamur Rahman, chairman of Enam Medical College and Hospital; Gawher Nayeem Wahra, director for disaster management and climate change at Brac; Syed Sultan Ahmed, assistant executive director of the Bangladesh Institute of Labour Studies; Ranjon Francis Rozario, regional director for Dhaka at Caritas, and KAM Morshed, director for advocacy for social change and ICT at Brac, also spoke.