Bigger than ever
Ekushey book fair growing in all aspects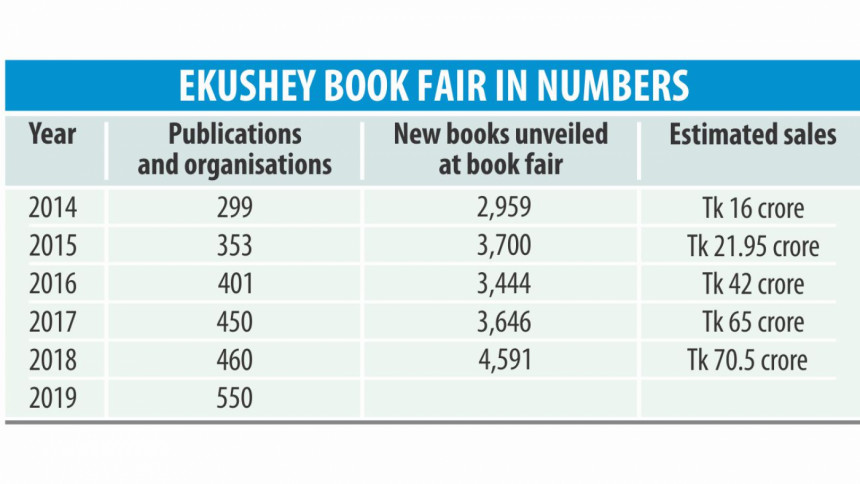 Ekushey book fair, the country's largest book festival, is getting bigger every year in terms of participating publication houses, number of new books unveiled at the fair as well as sales.
Organisers and publishers said acceptability of the annual fair, titled Amar Ekushey Granthamela, and book lovers' rising interest in creative books are some of the reasons of the book fair getting bigger each year.
The number of publication houses and other organisations joining at the annual book fair this year increased to 550 from 299 in 2014, according to Bangla Academy, organiser of the book fair that takes place throughout February.
Bangla Academy officials also said number of new books hitting the book fair reached 4,591 in 2018 -- from 2,959 in 2014. On the other hand, estimated sales at the 2018 book fair was about Tk 70.50 crore, a big rise from Tk 16 crore in 2014.
"Last week, we finalised that a total of 550 publication houses and others organisations will participate in this year's book fair," Bangla Academy director and member secretary of the fair's organising committee Jalal Ahmed told The Daily Star.
"Readers' as well as publishers' interest in creative books is on the rise," said Farid Ahmed, president of Academic and Creative Publishers' Association of Bangladesh, and also publisher of Somoy Prokashoni.
"Book fair is such an event that every publisher wants to be a part of, as it is the biggest congregation of readers, writers, poets and publishers" he said.
The fair began informally in 1972 on Bangla Academy premises. In 1978, the academy officially took the responsibility of organising the book fair every year. It was named Amar Ekushey Granthamela and a guideline was formulated in 1984. The fair venue was extended to Suhrawardy Udyan in 2013 to accommodate more participants as well as to have more breathing space for book lovers.
According to Bangla Academy, 460 publishing houses and others joined the fair in 2018, 450 in 2017, 401 in 2016 and 353 in 2015. According to estimates of previous book fair committees, the combined sale at the book fair was about Tk 65 crore in 2017, Tk 40.5 crore in 2016 and Tk 21.95 crore in 2015. Besides, 3,646 new books hit the fair in 2017, 3,444 new titles in 2016 and 3,700 new books in 2015.
Publishers of creative books (novels, short stories, poetry etc) said the majority of the year's business takes place during the book fair. Each year, publishers try to unveil almost all their new books at the fair, they added.
About 90 percent of sales of creative books take place in the month-long book fair, Farid Ahmed said, adding that they do not have any estimate of the total amount of book sales in a year.
Jalal said the fair committee would hold a lottery on Monday to finalise placements of the allocated stalls at the fair.
Prime Minister Sheikh Hasina is expected to inaugurate the fair on February 1. The fair will remain open from 3pm to 8:30pm on weekdays, from 11am to 8:30pm on weekends, and from 8am to 9pm on February 21 -- International Mother Language Day. 4454541