Horror, mystery, and adventures shape Shah Alam Shazu's 52nd book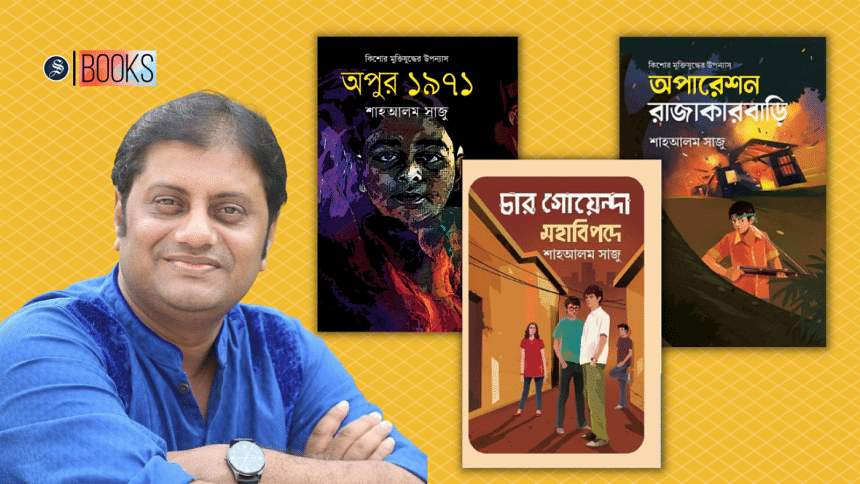 Char Goyenda Mohabipode, the 52nd book by author and journalist, Shah Alam Shazu, is being published in this year's Ekushey Boi Mela by Anannya. The book consists of five stories whose themes mainly centre around detectives, horror, mystery and adventure. 
Speaking to the Daily Star Books, Shah Alam Shazu said, "I write detective stories because this is what the younger audiences like the most. Besides, I always try to write them every two years to continue the line of detective novels I have written in the past. This book has also been written as a part of that commitment." 
He also mentioned how his new book's plot discusses themes such as friendship and teamwork. Stressing upon their importance when tailoring books for a younger audience, he elaborated that the plot involves a group of four friends who travel to Sylhet, where strange things happen to them. "I hope that parents will hand my books to their children for reading", he said.
When asked about his journey as a writer, he became nostalgic: "I was born and raised in the suburbs of Tangail, and I was sent to Dhaka back in 1996 to obtain a degree. However, my own goal for coming to the city was to become a writer. I got admitted to Jagannath University, and its close proximity to Bangla Bazaar allowed me to pursue my interest in literature. After writing short stories in the various dailies, my first book was published in the Dhaka International Book Fair in December of 1998. That is how my writing journey began, and this has led up to my 52nd book, Char Goyenda Mohabipode." 
Elaborating on the books which inspired him, Shazu said, "One of the first books I read was Romena Afaz's Jani Tumi Ashbe (1989). Then I would often borrow the books of Sarat Chandra Chattopadhyay from my cousin, and later when I went to college, I was influenced by the books written by Humayun Ahmed and Zahir Raihan. I have also read Samares Mazumdar and Sunil Gangopadhyay, including Satkahon and Prothom Alo. I do consider myself to be an ardent reader, even before I am a writer." 
Four of Shazu's other books are also being published in the Boi Mela this year: Operation Rajakarbari from Shomoy Prokash, Apur 1971 from Anindya Prokash, and Mukti from Shobdoshilpo, Dushahoshi Ratan from Mizan Publishers. 
Sharing his future plans, Shazu said, "I write throughout the year, and try to write regularly everyday in the morning or night. I have been writing a novel based on the incidents of the Language Movement which I started writing before the pandemic. Hopefully it will be published in the Boi Mela of 2024. I plan to publish a book related to the Liberation War in the year after."
Hrishik Roy is an intern at Daily Star Books and a contributor at SHOUT. Reach out to him at [email protected].