DU, JU students vandalise each other's buses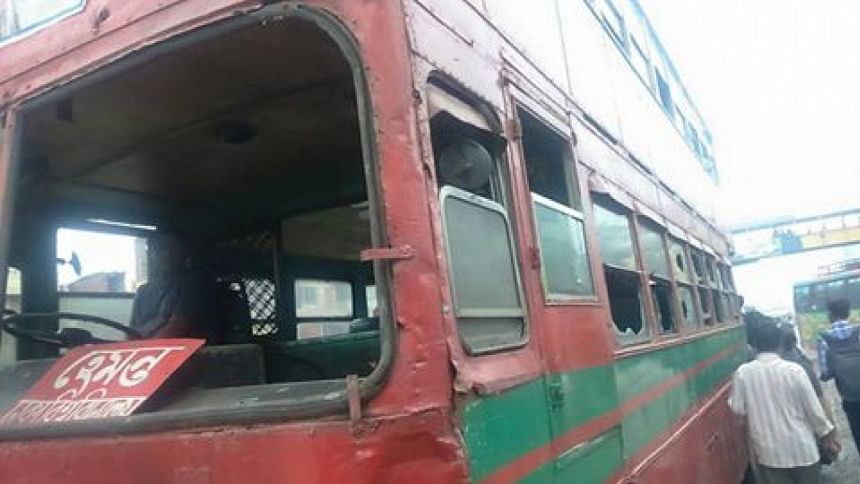 Dhaka University and Jahangirnagar University students vandalised each other's university buses – a sequel which started last night and continued today.
Today, in retaliation of a Jahangirnagar University bus vandalised at Dhaka University last night, a vehicle was damaged in Savar this morning which was answered in equal this evening.
Some Dhaka University students vandalised a Jahangirnagar University bus around 8:00pm last night at TSC, our local campus correspondent reports quoting Proctor M Amzad Ali.
Witnesses said, some students were demonstrating at TSC last night. They vandalised a bus of Jahangirnagar University allegedly because it tried to pass through the crowd.
This morning around 6:00am, some 10-12 students of Jahangirnagar University vandalised a Dhaka University bus "Hemanto" on Dhaka-Aricha highway near Joy Bangla their campus.
Jahangirnagar authorities rushed to the scene, but could not find anyone as they fled, our local campus correspondent reports quoting Sudipto Shaheen, chief security officer of JU.
In further retaliation, Dhaka University students attacked a double-decker of JU at Manik Mia Avenue area around 5:00pm, DU Proctor M Amzad Ali said.
"There was no teacher or student in the bus during the unwanted incident," he said. "We're going to trace the attackers and trying to control the tension," he added.