'Minor injury marks found on Banasree housemaid's body'
Two accused remanded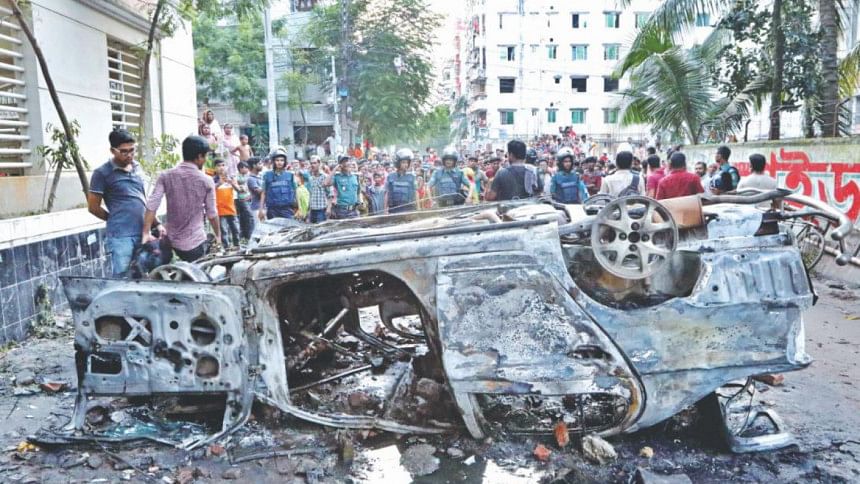 Doctors at Dhaka Medical College Hospital today claimed to have found minor injury marks in head and throat of the housemaid who mysteriously died in Banasree area of Dhaka yesterday.
"We found minor injury marks in the head and throat of the victim," Sohel Mahmud, assistant professor of DMCH forensic department, told reporters after performing the autopsy.
It will be cleared whether the housemaid Laily Begum has been killed after getting autopsy report, Mahmud said.
Laily, 25, used to work as a part-time maid at the house of Moeen Uddin at House 14 on Road 4 in Block D, Banasree.
Moeen took Laily to DMCH around 11:00am yesterday and said she hanged herself shutting the door of a room from inside. He added they broke through the door and rushed her to the hospital.
As the news spread that "her employer hacked her" as she went to the house to claim her due salary, her neighbours and locals ransacked the house, torched a vehicle and damaged a dozen others.
Meanwhile, a court in Dhaka this afternoon granted a three-day remand for Moeen and guard Tafazzal Hossain Tipu in a case filed over death.
Metropolitan Magistrate AKM Mainuddin Siddique passed the order after Sub-Inspector Munjur Rahman of Khilgaon Police Station produced them before it with a 10-day remand prayer for each.
Shahidul Islam, elder brother of Laily's husband, filed the murder case with Khilgaon Police Station against Moeen, his wife Shahnaz Begum and guard Tipu last night.
Read More: House help's death sparks violent protest
Moeen and Tipu were arrested soon after the incident. According to Bangla Daily Prothom Alo, Shahnaz was arrested from her house this afternoon. Police, however did not seek any remand for Shanaz.
Meanwhile, police filed the other case against more than 400 people on charge of attacking law enforcers and vandalizing vehicles during the violence in the area, Shiblee Noman, additional deputy commissioner of Dhaka Metropolitan Police (Motijheel zone), told The Daily Star this morning.
The plaintiff mentioned the names of least 30 people including the three arrestees in the case, he said.