House help's death sparks violent protest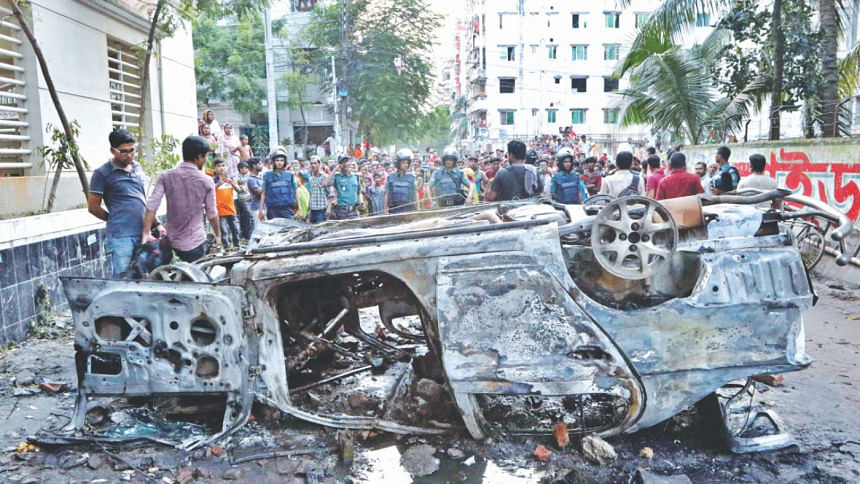 Angry locals ransacked a house, torched a vehicle and damaged a dozen others following a housemaid's mysterious death at Banasree in the capital yesterday.
More than a thousand locals clashed with police intermittently since 3:00pm after the law enforcers tried to disperse them.
Police fired rubber bullets and teargas shells during the clashes that turned the area into a virtual battlefield, witnesses said.
The clash stopped around 9:00pm.
Locals ransacked around a dozen vehicles on the road passing along the canal at Banasree from Rampura Bridge and burned tyres, forcing police to halt traffic on the road in the evening, they added.
It could not be learned immediately if any law enforcers or protesters suffered injuries. The six-storey building, the centre of the incident, was in the dark and the condition of its tenants could not be known immediately.
The dead, Laily Begum, 25, used to work as a part-time maid at the house of Moeen Uddin at House 14 on Road 4 in Block D, Banasree.
Moeen took Laily to Dhaka Medical College Hospital around 11:00am and said she hanged herself shutting the door of a room from inside. He added they broke through the door and rushed her to the hospital.
Laily lived in a tin-shed shanty in the area. As the news spread that "her employer hacked her" as she went to the house to claim her due salary, her neighbours and locals besieged the building at 3:00pm, said local rickshaw-puller Abdul Khalek.
"The protesters started pelting brickbats at the building indiscriminately, damaging windows of different floors," said Khalek, who suffered head injuries as he was passing the nearby road carrying a passenger.
They also set a microbus on fire, he told The Daily Star.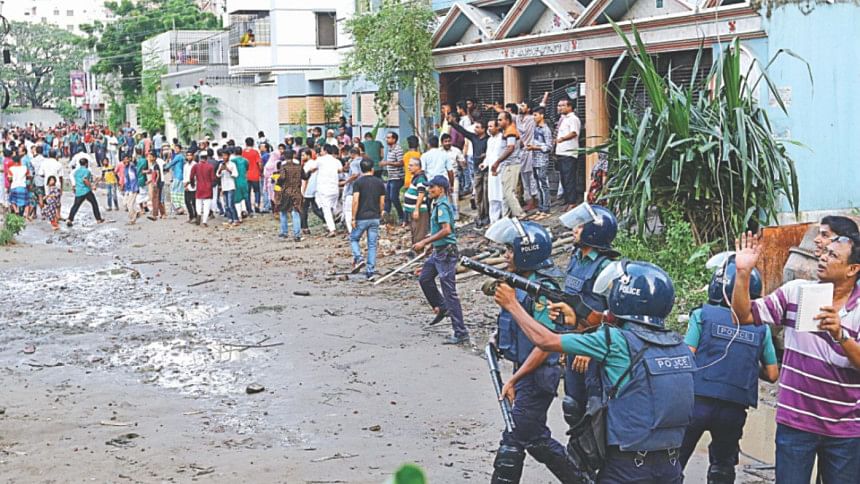 As police tried to disperse the locals, they threw rocks on the law enforcers, resulting in a chase and counter-chase.
Police responded by firing rubber bullets and teargas shells, forcing the protesters to retreat. They again gathered and rained brickbats on the police around 7:15pm, forcing the law enforcers to retreat. Police again fired teargas shells and rubber bullets.
Officer-in-Charge of Khilgaon police Kazi Mainul Islam told The Daily Star they detained house owner Moeen Uddin, a retired customs official, and a guard for questioning.
Laily is originally from Fulbaria upazila of Kurigram and had two children. Her husband Nazrul Islam is in an Indian jail, locals said.
She was supposed to go her native village with her children after collecting four month's pay of Tk 24,000 from her employer, said Noor Islam, Laily's brother-in-law.
"Laily was suppose to come back home before noon but we came to know about her death in the afternoon," he said.
Laily used to live in India's Hariana along with her husband, but she came back to Bangladesh around two years back with her children. Her husband was later arrested by Indian police one and a half years ago for illegal stay, said Noor.
About a year ago, Laily started working at Moeen's house, where she worked from 6:00am till 10:00pm, he added.