Protesters demand Moshiur's unconditional release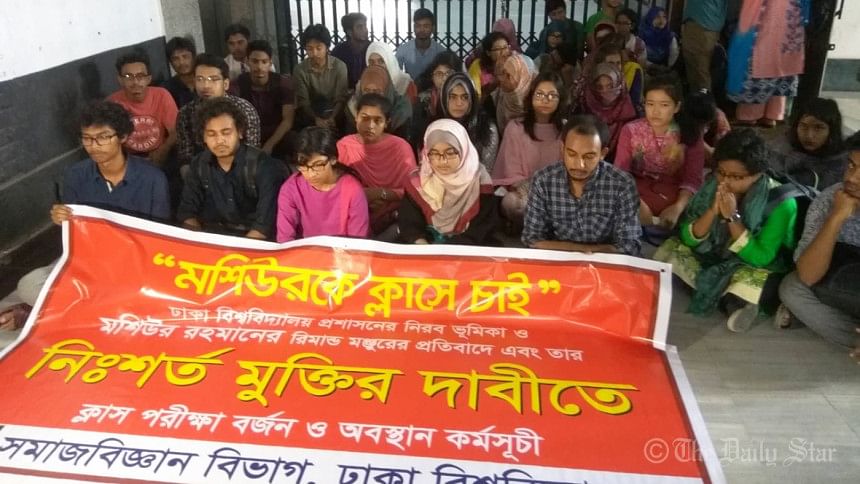 A section of Dhaka University students today demanded the unconditional release of their fellow Moshiur Rahman, one of the leaders of quota reform movement, from jail.
Several dozen students of the Department of Sociology of DU Faculty of Social Sciences hold a sit-in at their department floor boycotting classes this morning to press home their demands.
They protested yesterday's remand order on Moshiur and blasted the DU authority's silent stance in this regard.
A Dhaka court yesterday placed Moshiur and two other leaders of quota reform movement --  Jashim Uddin Akash and Faruk Hasan -- on a two-day remand each in two cases filed in connection with the attacks at Dhaka University vice chancellor's residence and police and vandalising vehicles on April 9.
The trio are the joint conveners of Bangladesh Sadharan Chhatra Adhikar Sangrakkhan Parishad, a platform that spearheaded the quota demos.
In February, students of different public universities and jobseekers under the banner of "Bangladesh Sadharan Chhatra Adhikar Sangrakkhan Parishad" launched a movement demanding quota reforms in the civil service.
On April 11, Prime Minister Sheikh Hasina in parliament spoke of abolishing all types of quotas in public jobs.
As no gazette notification was issued in this regard, the protesters started preparing for fresh programmes. But they were attacked on the DU and RU campuses.
On July 2, the government formed a seven-member committee "to review or reform or cancel" the quota system for the civil service.