Toriqul fights thru' pain
RU denies him permission to attend exam in sick bed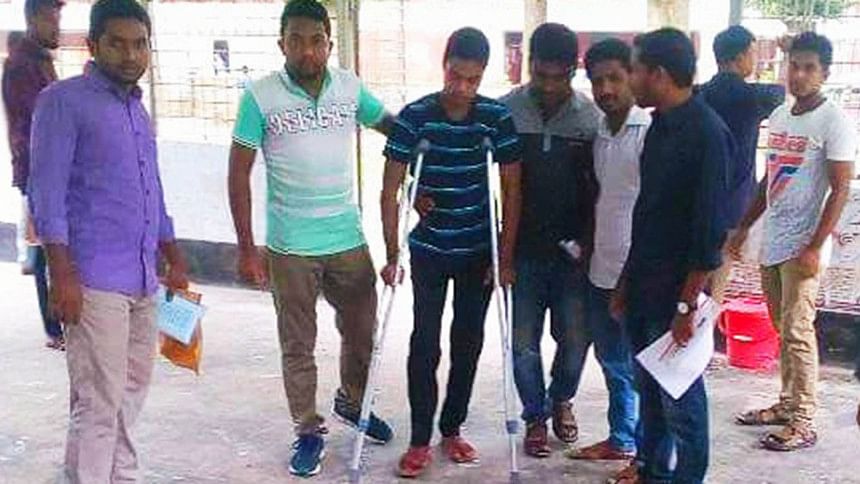 As the ambulance stopped in front of the Department of Islamic Studies of Rajshahi University in the morning, a few students rushed towards it.
Toriqul Islam, a student of the department, got off the vehicle with their help. Slowly but surely he walked inside, accompanied by his alert classmates.
Toriqul, a victim of Bangladesh Chhatra League-led attack on students during the quota reform movement, was in pain and having difficulty walking or keeping balance.
But he had an exam to attend. The final exams of his master's courses started yesterday.
On July 2, BCL men attacked Toriqul with a hammer, bamboo poles and sticks leaving both the bones of his right leg fractured. He was going to join a procession demanding the gazette notification on quota reforms in government jobs.
Yesterday, the department with the help of Sadharan Chhatra Odhikar Sangrakkhan Parishad arranged a makeshift bed for him at its office on the ground floor, where he sat and at times, laid down while taking the four-hour exam.
Prof M Rafiqul Islam, chairman of the department, said, "We tried to help him [Toriqul] as much as we could."
But after attending the exam for three hours, Toriqul was in pain and had to leave without completing it. He said he requested the authorities to allow him special provisions for taking the exams, but the authorities did not accept it.
"I applied on Tuesday for allowing me to take the exam at the University Medical Centre. The doctors at the medical centre approved my application considering my condition. I don't know why the university authorities did not accept it," said a frustrated Toriqul, also a quota movement leader.
"I cannot even sit properly for a couple of minutes without feeling pain. How can I take the four-hour exam at a stretch like others?" He said the next exam is on October 2.
Contacted, M Babul Islam, exam controller, said, "We approve such applications if a student is suffering from an infectious disease."
Meanwhile, students of the university urged the authorities to allow Toriqul to take the remaining five exams at the medical centre.
This correspondent went to the vice chancellor's office around noon for his comments, but one of the officials there said he was at a meeting. The VC also could not be reached over the phone.
In the afternoon, an office secretary answered the phone and said the VC would be available in the evening. He was still not available for comments till filing of this report around 8:00pm.