Shafik on fresh 5-day remand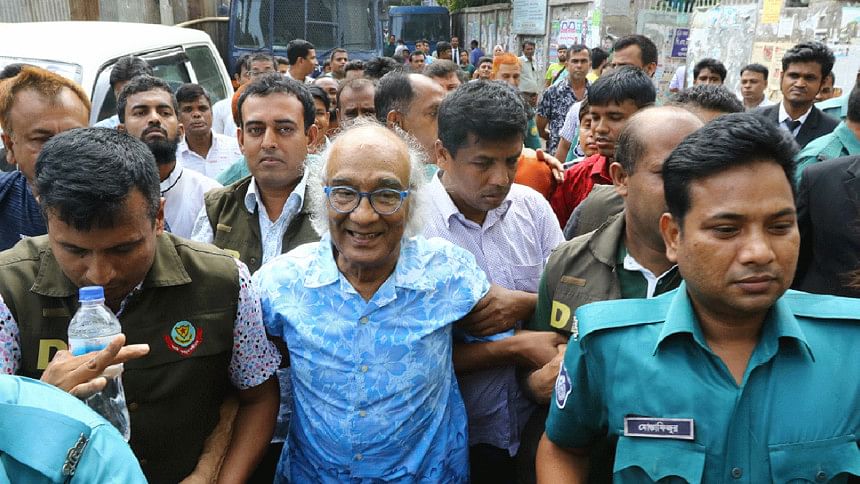 A Dhaka court placed journalist Shafik Rehman on fresh 5-day remand in a case filed over an alleged plot to kidnap and kill prime minister's son Sajeeb Wazed Joy.
Metropolitan Magistrate Mahmudul Hasan passed the order after detectives produced Shafik with a seven-day remand prayer around 2:00pm today.
Detective Branch of Police sought fresh remand after completion of his five-day remand that concluded yesterday.
READ MORE: Cops arrest journalist Shafik Rehman
Earlier in the day, Mashruqure Rahman Khaled, deputy commissioner of Detective Branch (south division) of Dhaka Metropolitan Police (DMP), told The Daily Star, "He (Shafik Rehman) needs to be interrogated further as we received important information from him".
He was arrested by plainclothes detectives on April 16 from his Eskaton house in Dhaka and placed on a five-day remand by a Dhaka court in connection with the case.
Police on Tuesday claimed that Shafik admitted having more than one meeting with those in the US allegedly involved in the plot against Joy.
ALSO READ: DB claims Shafik admits meeting suspects in US
DMP Additional Commissioner Monirul Islam on that day said he (Shafik) admitted meeting four persons including the three convicted by a US court over bribing an FBI special agent to collect confidential information. They are US-Bangladesh citizen Rizve Ahmed Caesar, former FBI special agent Robert Lustyik and his "contact" Johannes Thaler.
Shafik, who also holds British citizenship, worked in various media outlets, including the BBC, but came in the limelight after becoming editor of the weekly Jaijaidin in the 1980s.
According to the case statement, Caeser's father Mamun and some top leaders of the BNP and its allies met in the UK, the US and various places of Bangladesh before September 2012 and conspired to abduct and kill the PM's son.
In March last year, Caesar was convicted by a US court for bribing an FBI special agent to collect information regarding a Bangladeshi political figure.
The US Justice Department did not name the figure, but it is believed to be Joy.
In a Facebook post on March 9 last year, Joy, also ICT affairs adviser to the prime minister, accused BNP leaders of conspiring to abduct and kill him.