32 more magazines found from Uttara canal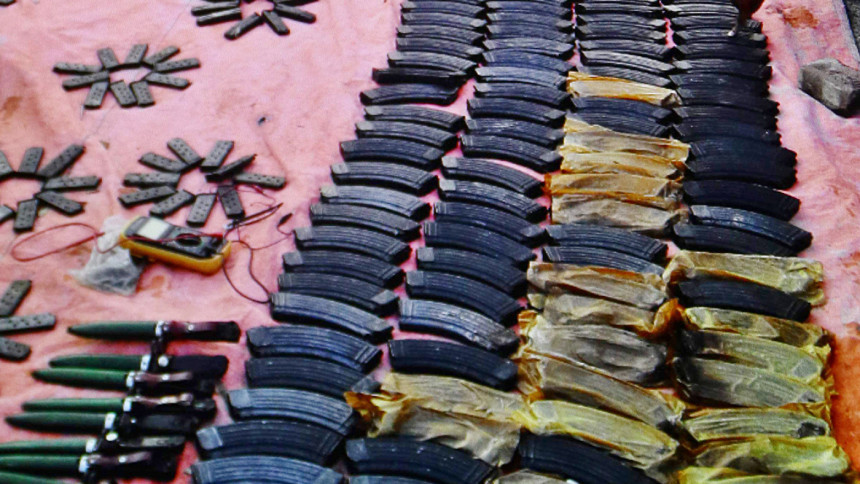 Police recovered 32 more magazines from a canal in Uttara during a further raid where a huge stash of arms and ammunition were recovered yesterday.
Diver Yousuf made the recovery after police with the help of the fire service started today's drive around 9:00am and continued for about six hours, said Mahmudul Haque, inspector of Fire Service and Civil Defence.
Also read: Huge arms, ammo found in Dhaka canal
Meanwhile, Inspector General of Police (IGP) AKM Shahidul Hoque along with several senior police officials visited the areas and told newsmen that the arms and ammunition could have belonged to militants or terrorist groups.
"The firearms might have been piled by organised groups to carry out subversive activities," the IGP said.
He said a combing operation is underway across the country against militancy. The criminals might have kept the firearms in the canal to avoid arrest, he added.        
Police already lodged a general diary with the Turag Police Station in this connection.
"We will proceed further after investigation," Mahbube Khoda, officer-in-charge of the Police Station told The Daily Star.
Acting on tip-off law enforcers yesterday recovered a large cache of firearms and ammunition from the canal.
The drive began around 4:00pm and ended around 11:25pm yesterday, according to fire service sources.
As many as 97 foreign pistols, including two 9mm pistols, about 1,060 bullets, 452 magazines and 10 bayonets were found in the canal, claimed police and fire service sources.
Wrapped in paper, the arms and ammunition were kept in seven travel bags.