Buriganga pollution: HC refuses to accept compliance reports from govt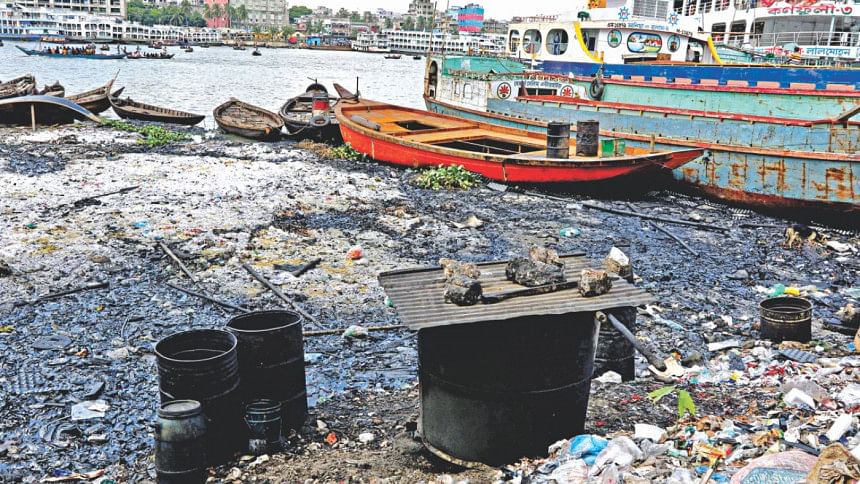 The High Court today refused to accept four separate compliance reports from the government on the steps to stop pollution of Buriganga River, as there was no mention in the reports about any effective initiative to this effect.
The court also ordered the authorities concerned of the government to submit further reports specifically mentioning the steps in line with its 2011 directives to this court in a week.     
Managing director of Dhaka Water Supply and Sewerage Authority (Wasa), chairman and director (port and traffic) of Bangladesh Inland Water Transport Authority, director general of Department of Environment (DoE) and deputy commissioner of Dhaka, who submitted the compliance reports to the HC today through their lawyers, have been ordered to make and place reports further to this court in a week.
The HC bench of Justice Gobinda Chandra Tagore and Justice Mohammad Ullah came up with the order during hearing a writ petition moved by Advocate Manzill Murshid on behalf of Human Rights and Peace for Bangladesh (HRPB).
Following the same petition, the HC on June 1, 2011 had directed the authorities concerned of the government to seal off all the sewage outlets into the Buriganga River within one year.
It also directed the authorities to stop dumping waste into the river and declared their inaction in preventing water pollution illegal. The authorities are also to clean up the river and move all the sources of pollution from there.
A rights organisation filed the petition May last year based on a report published in The Daily Star on April 25 the same year under the headline "Untreated waste dumped into Buriganga".
On May 2 this year the HC asked the authorities to submit separate compliance reports to this court in two weeks.