Surma choked with garbage
7.5km stretch of the river in Sylhet city littered with trash, household waste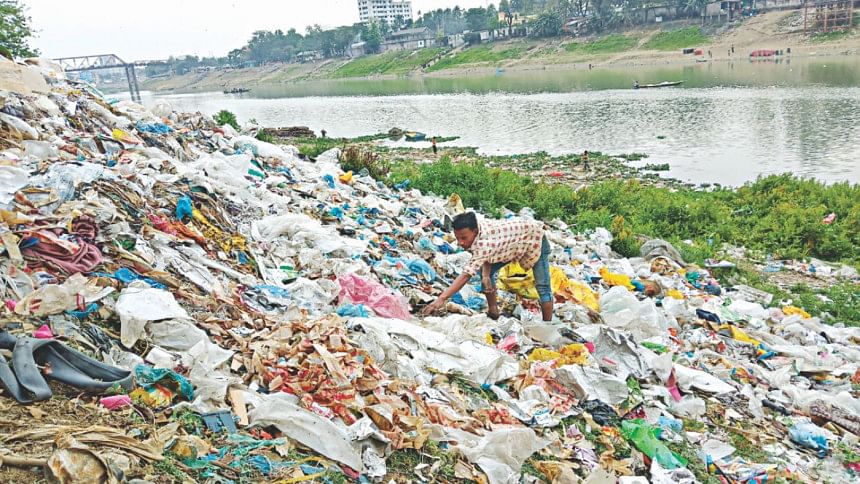 The Surma river in Sylhet is on the verge of becoming another Buriganga, environmentalists fear.
Although the local office of the Department of Environment claims that indicators regarding the river's health were acceptable, people living by it are saying that the water is so polluted that some are suffering from skin and stomach diseases.
More than 7.5km of the river flows through Sylhet metropolitan areas. During a recent visit, this correspondent saw plastic bottles, polythene bags and other household wastes floating at several points.
Filthy and sluggish flow of water was seen at Sheikhghat, Kazirbazar, Topkhana Chadnighat, Kalighat, Machimpur, Kadamtali, Kushighat, and Technical Road.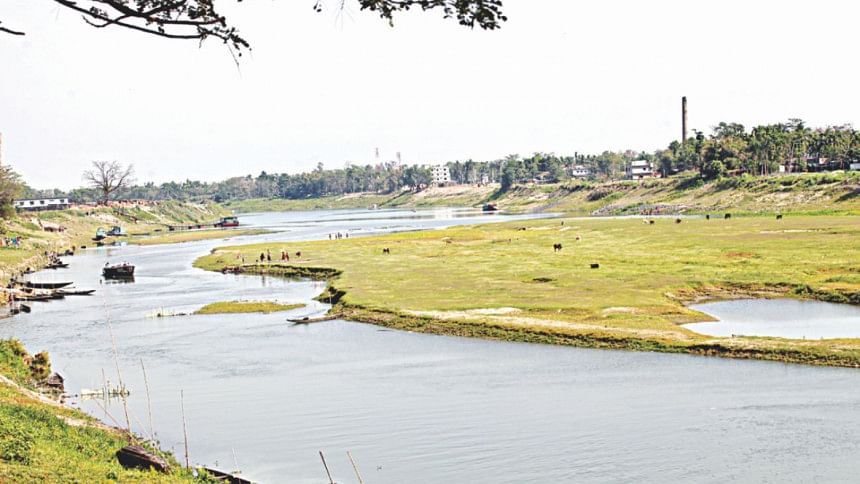 Residents of these areas use the water of the Surma for bathing and various household purposes.
Ananda Das, a resident of Topkhana, said, "This is the only source of water for household chores and bathing. We have been using it for generations but it has turned opaque over the past few years."
Ajmol Miah, a slum dweller in Kazirbazar, said, "After swimming in the water, we have itching all over the body. But it goes away. But children suffer more due to skin diseases."

Himangshu Lal Roy, civil surgeon in Sylhet told this paper, "The water of the portion which is flowing through the city is not suitable for household chores. It can cause serious skin and stomach ailments."
"This is how the pollution in Buriganga started. No-one paid heed to the movements and today the river is dead. Surma might face the same fate," Abdul Karim Kim, general secretary of Bangladesh Poribesh Andolon (Sylhet chapter), said.
He called for prompt measures by the government to protect the river.
The DoE however, claims that it collected water samples from Sheikhghat, Kean Bridge, and Mendibag points and found the pH level to be normal.
"pH level 7-8 is considered the standard. The pH level in the Surma was found to be around 6.95 and the amount of oxygen dissolved was also normal," said Md Altaf Hossain, acting director of DoE, Sylhet.
The DoE conducts tests to assess pollution levels in the river every 15 days and the latest one was done on March 11, he said.