Amar Ekushey Granthamela-2015
Book fair ends undaunted
Turnover larger than last year's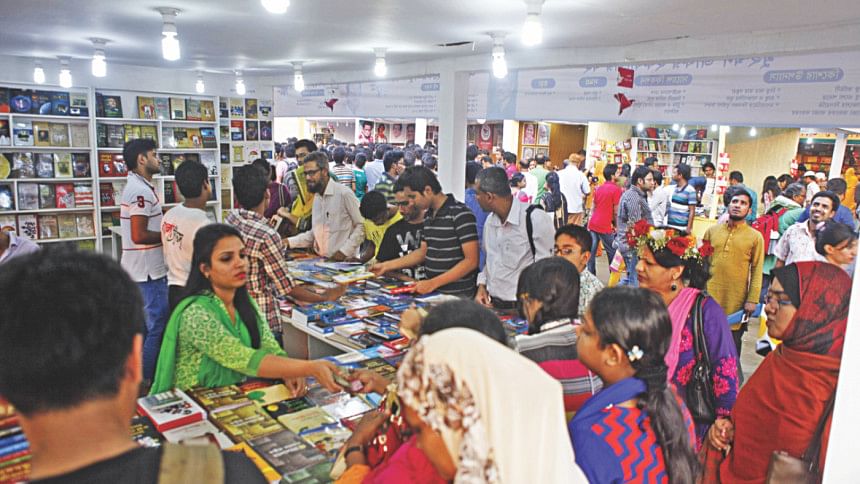 The month-long book fair that was an oasis amid political chaos in the country came to an end yesterday night.
Continuous blockades and hartals, political violence on the streets, and not even the shutdown of a stall in the face of protest by religious extremists could mar the spirit of the Amar Ekushey Granthamela-2015.
In the eyes of Farid Ahmed, publisher of Somoy Prokashon, the fair was a success considering the circumstances during which it was held.
"Sale at some stalls may have been affected, but if you are able to publish good books and market those well then your books will sell," he said.
In fact, according to Bangla Academy's public relation office, the total sale this year was Tk 21.95 crore, while last year the total sale was Tk 16.5 crore.          
Even on the last day, 125 new books arrived at the fair totalling the number of books to 3,700.
Most stalls on the Suhrawardy Udyan portion of the fair yesterday refrained from any kind of transaction for 10 minutes at 4:00pm in protest of the murder of Avijit Roy.
At the closing ceremony of the fair, awards of Bangla Academy -- "Chittaranjan Saha Smriti Puroshkar", "Munier Chowdhury Smriti Puroshkar", "Rokonuzzaman Khan Dada Bhai Smriti Puroskar" and "Qayyum Chowdhury Smriti Puroshkar" -- were given to seven publishing houses.
Mowla Brothers, Bengal Publications Limited, Pathak Samabesh and Somoy Prokashon, which received the first three awards, got Tk 25,000, certificate and a crest each.
The University Press Limited, Prothoma Prokashon and Journeyman Books got the fourth award. The University Press Limited received Tk 20,000, a certificate and a crest for the best pavilion, while Prothoma Prokashon and Journeyman Books received Tk 15,000, a crest and a certificate each for best decorated stall.   
Meanwhile, poet and writer Iqbal Hossain and artist Syed Iqbal received Bangla Academy's "Syed Waliullah Puroskar" for their contribution to Bangla literature abroad. The awardees were given a cheque of Tk 50,000, a crest, a certificate and a flower bouquet each.
Minister of Cultural Affairs Asaduzzaman Noor handed over the prizes to the awardees.