Siddiqur flown to India for eye treatment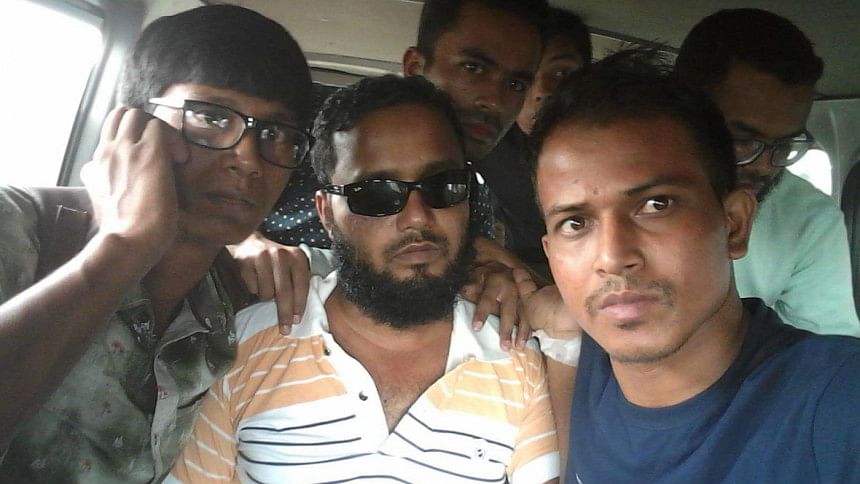 Titumir college student Siddiqur Rahman, whose eyes were damaged in "police excess" during a demonstration in Shahbagh on July 20, has been flown to India for better treatment.
The flight carrying Siddiqur left Hazrat Shahjalal International Airport in Dhaka at 1:00pm.
Earlier, he started for the airport from National Institute of Ophthalmology in Agargaon around 10:00am, Nayeb Ali, Siddiqur's elder brother, told The Daily Star.
Nayeb Ali and a doctor will accompany him to Sankara Nethralaya Hospital in Chennai of India, the brother said.
Some of his friends are also going to the airport to see Siddiqur off.
The government is bearing the cost of his treatment, which will begin from Friday after some medical tests, an official of the health and family welfare ministry told The Daily Star earlier.
Siddiqur's eyes were damaged after a policeman, as seen in a video footage, shot a teargas canister directly at the agitating college students at Shahbagh on July 20. Siddiqur collapsed on the street instantly.
He cannot see with his right eye. Doctors said there was still a chance, however slim, for the left eye as it responded to light once or twice when the physicians removed the bandage on Sunday.
A three-member probe committee is investigating the matter. Another committee will be formed if this one fails to come up with satisfactory findings.