Resolve hajj visa chaos in 48hrs: HC asks govt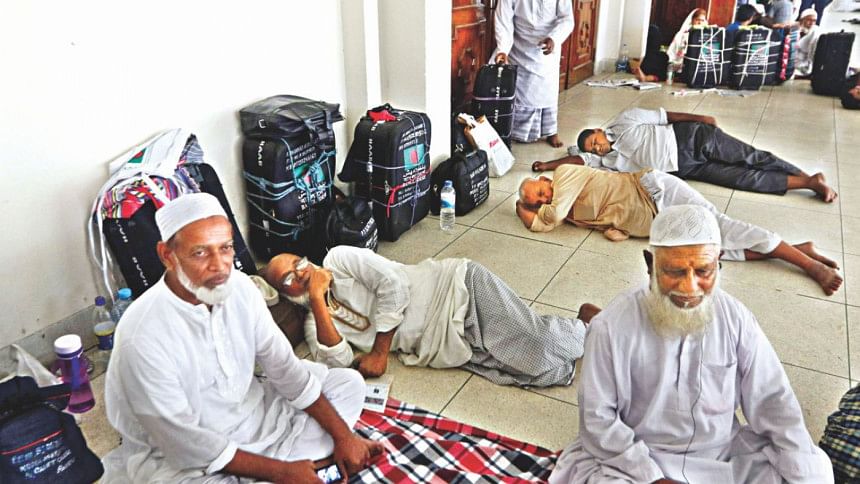 The High Court today directed the foreign ministry to communicate with the Saudi Arabian government to resolve the visa complexities in 48 hours for smooth journey of hajj pilgrims.
It also directed the authorities concerned of the government to hire additional flights to ferry the pilgrims who could not go to Saudi Arabia to perform hajj ritual yet.
The court also issued a rule asking the government to explain why it should not be directed to form an enquiry commission to find out those responsible for the hajj flight mess.
Read More: Pilgrims thrown into disarray
The bench of Justice Syed Muhammad Dastagir Husain and Justice Md Ataur Rahman Khan came up with the order and rule following a writ petition filed by Human Rights and Peace for Bangladesh (HRPB).
In the petition, Advocate Manzill Murshed, the president of HRPB, prayed to the High Court to direct the foreign ministry to communicate with the government of Saudi Arabia within 48 hours to settle the hajj visa issues.
As many as 90 hajj agencies could not send a single of the 13,415 pilgrims till Friday despite issuing visas weeks ago, as the tour operators failed to book flight tickets and arrange their accommodation in Saudi Arabia.
On several occasions, Motiur Rahman, the religious affairs minister, warned of action against the hajj agencies involved in irregularities and fraudulence, which includes cancellation of the licence, fine and forfeiting of the deposit money.
So far 25 hajj flights of the national flag carrier have been cancelled due to visa complexities and shortage of pilgrims.