DU-affiliated college students withdraw blockade
DU VC holding meeting with students' representatives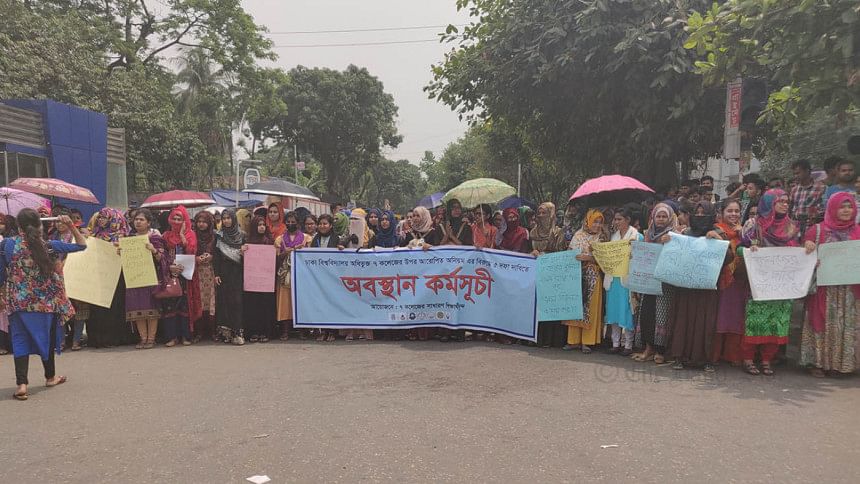 Students of seven colleges affiliated with Dhaka University, who have been staging demonstration for five-point demand including explanation of mass fails, withdrew their blockade at Nilkhet in Dhaka for today.
"We have withdrawn the blockade around 2:30pm as per our schedule that we will block the road in Nilkhet from 10:00am to 2:00pm every day," Shaheen Hossain, a postgraduate student of Dhaka College, told our DU correspondent this evening.
Meanwhile, a 14-member delegation of the students have started holding meeting with DU Vice-Chancellor Prof Akhtaruzzaman at his office this evening, Shaheen said, adding that they will take final decision over their demonstration after the meeting ends.        
READ MORE: Road block postponed in ultimatum
Earlier in the day, DU Proctor Dr AKM Golam Rabbani went to the agitating students around 1:30pm and urged them to withdraw their blockade with assurance that their demands will be met.
The protesting students paid no heed to his assurance and continued their blockade at Nilkhet till 2:30pm.
The proctor said that complications arose while affiliating the students of National University to Dhaka University, which the authorities are trying to solve.
Decisions have been made to publish their results within 90 working days of examination as well, he said, adding that results of particular subjects, in which most students failed, will be re-evaluated following applications from the students.
Earlier, the students said, if their demands are not met by today, they will go for tougher demonstration that will include blockading the road at Nilkhet every day.
The students are demanding re-evaluation of their examination scripts after a mass fail, which they claim are errors caused by poor evaluation process.
Only three students of 2015-16 session at Dhaka College's Bangla department said to have passed the examination out of 216 students, they claimed.
Their other demands include publishing results within 90 days of examinations, separate administrative buildings for seven colleges, at least 14 monthly classes by DU teachers, introducing separate academic calendar and crash programmes to curb session jam.