4-day march against Rampal power plant starts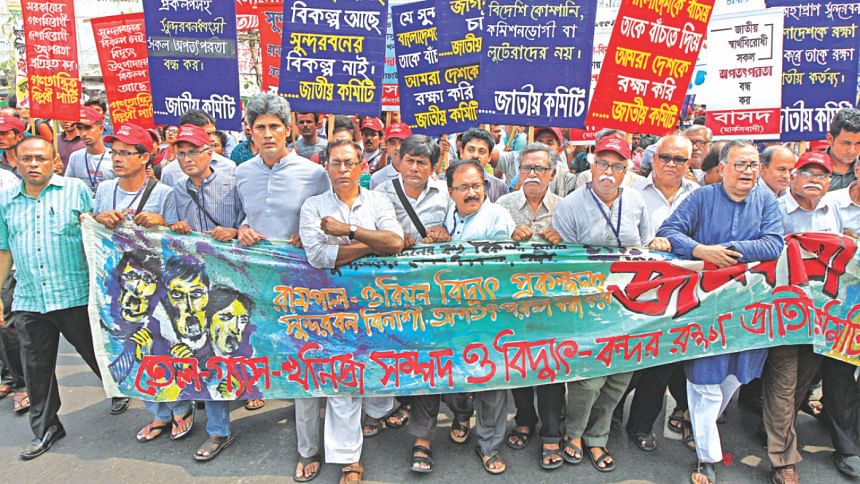 Hundreds of people embarked on a motorcade titled "Janajatra" towards Rampal yesterday with a demand that the power plant project near the Sundarbans be cancelled.
The protesters held a rally in front of Jatiya Press Club in Dhaka before setting out towards Rampal, Bagerhat around noon.
"By destroying the Sundarbans, the coal fired power plant would leave four crore people of that region vulnerable to natural disasters," said Prof Anu Muhammad, member secretary of the national committee to protect oil, gas, mineral resources, power and ports, which is organising the four-day journey.
The committee also held a long march in 2013 with similar demands following Bangladesh and India's inking of a deal to set up a 1,320MW power plant at Rampal, only 14 kilometre off the Sundarbans.
"There are alternatives to establishing the plant there, but the Sundarbans is a unique ecosystem with no alternatives," added Anu Muhammad.
The protesters left Dhaka in a motorcade of 10 buses and several pickup trucks.
UNB reports: thousands of activists of different left-leaning parties, mainly of Workers Party, Communist Party of Bangladesh (CPB), BSD, and Ganosanghati Andolon joined the long march.
Organisers said the long march will reach Faridpur on Thursday afternoon while Khulna on Friday and finally the Sundarbans on March 13.
The protesters also demanded enactment of a law in order to prevent the export of mineral resources, full implementation of Fulbari Agreement and ban on lifting coal in open method.