2017: No good year for workers
Finds Bangladesh Occupational Safety, Health and Environment Foundation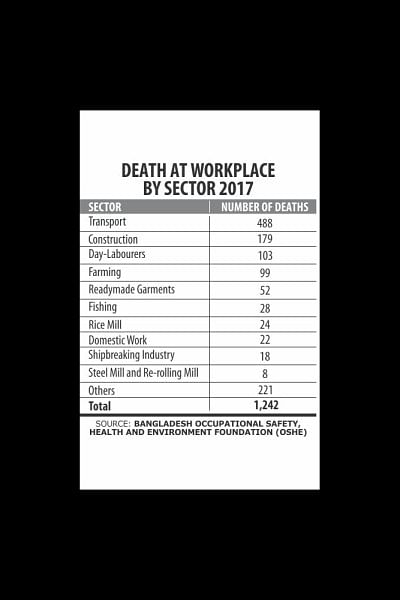 The outgoing year was as deadly as the previous year for the workers, as at least 1,242 workers were killed across the country in 2017 due to a lack of occupational safety in the workplace, according to a report.
Bangladesh Occupational Safety, Health and Environment Foundation (OSHE) yesterday revealed the report on causalities in the workplace at a press briefing at Dhaka Reporters Unity (DRU). OSHE Chairperson Saki Rezwana disclosed the report. As per the report, this year's condition has remained almost the same as 1,240 workers were killed in 2016.
The report was prepared based on news items run by 15 newspapers as well as information gathered from spots by staff of the foundation.
The reasons behind the workers' deaths and injuries include road accidents during their ways to workplaces, electrocution, fire, lightning strikes, and boiler and cylinder explosions. In 2017, at least 679 workers either died or got injured in road accidents on their way to workplaces. The report adds that 270 workers were killed in formal sector while 972 others in informal sector in the outgoing year.
The highest 488 workers were killed in transport sector while eight in steel and re-rolling mills.
In the last 10 years, at least 12,864 workers were killed and 11,767 were injured in workplace accidents, according to the report. Of the dead workers, maximum 1,971 were killed in garments sector.  The foundation also expressed a great concern over the deaths caused by boiler blast. In 2017, a total of 97 workers were killed in boiler blast across the country.
The use of expired boiler poses a threat to the workers, the foundation observed. Thirteen workers of Multifabs Garment Factory were killed in a boiler explosion on July 3 in Gazipur's Kashimpur. Fifty-three others were also injured.
Investigators found that the boiler was being operated in over-pressure mode, despite having expired a month before the incident.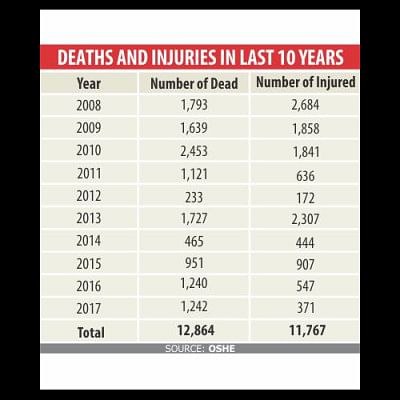 On April 19, a boiler in Jamuna Auto Rice Mill exploded in Dinajpur, taking the lives of 18 workers, and injuring 12.
One boiler inspector is in charge of checking more than 600 boilers in Rangpur, Rajshahi and Khulna regions. The foundation recommended increasing the number of boiler inspectors.
"Occupational safety is a right to the workers. But it is unfortunate and bitter truth that a large number of workers are being killed in workplaces  every year in Bangladesh because of poor safety standards and lax enforcement of existing regulations," said OSHE Foundation Chairperson Saki Rezwana.
Although there are Bangladesh Labour Act and International Labour Organisation convention, these are poorly enforced when it comes to workers' safety, she said.
Such condition is a big drawback for production and human resource development in the country, she added.
OSHE suggested providing workers with safety gears, regular inspection of boilers, forming dedicated units for ensuring workplace safety, building designated hospitals for RMG workers and providing financial assistance to the victims.
The foundation's Vice Chairperson Dr SM Morshed, Director Masum Ul Alam and injured workers were also present at the programme.