Govt to hold nurse recruitment test today
Case filed against 1,400 demonstrators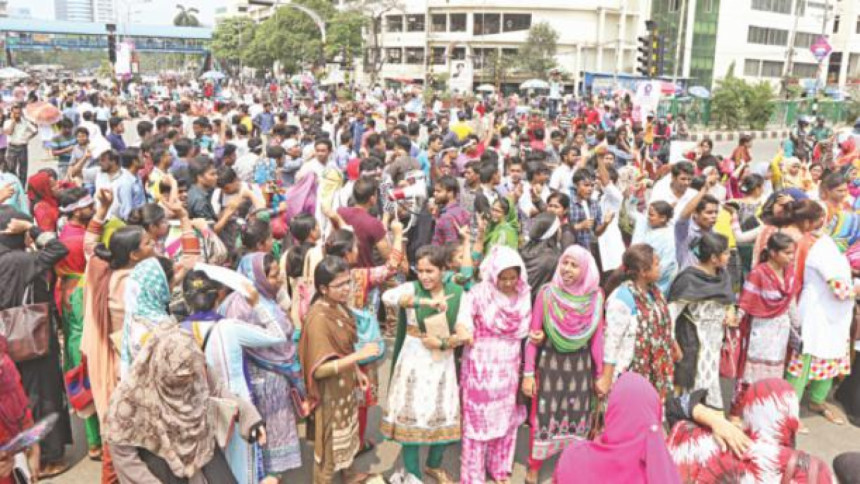 Despite Wednesday night's clash between police and nurses where at least 50 nurses were injured after cops charged batons and used water cannons to disperse them, when the latter tried to enter the health minister's Dhanmondi residence with a demand for postponing and revising their recruitment process, the government will hold the tests for the recruitment of 3,616 senior nurses today, according to a Ministry of Health and Family Welfare press release issued yesterday afternoon.
The tests will be taken but with a slight change – a multiple choice questions (MCQ) test and a viva-voce will be held instead of the 1,000-mark written tests, it said.
"We will gather at Dhaka Nursing College around 6:00am today and declare our next programme," Nahida Akhter, secretary general of Bangladesh Basic Graduate Nurses Society, told this correspondent over phone yesterday.
Meanwhile, police yesterday filed a case with Dhanmondi Police Station accusing around 1,400 unidentified nurses for "preventing the law enforcers from carrying out their duties" at the capital's Dhanmondi the day before.
Two nurses were arrested, said Nur-e-Azam, officer-in-charge of Dhanmondi Police Station, adding, the nurses hurled brick chips at them, leaving 10 cops injured.
The nurses claimed that police charged batons and used water cannons to disperse them leaving at least 50 of them injured. Around a hundred outsiders carrying sticks and iron rods joined police and beat them up, they claimed.
Some nurses also claimed that a three-month pregnant unemployed nurse, Salma Akter, suffered a miscarriage during the police action.
"Salma was hit at her abdomen. Since then she was bleeding," Nahida Akhter told The Daily Star by phone.
This paper visited a number of hospitals that night and contacted a few more yesterday, but could not verify the claim.
Meanwhile, different socio-political and rights organisation condemned the police action, demanding that the government bear the treatment cost of the inured and conduct a proper investigation.
Ain o Salish Kendra, Bangladesh Jatiyatabadi Dal, Bangladesh National Woman Lawyers' Association, Bangladesh Nurses Association, Communist Party of Bangladesh, and Bangladesh Trade Union Federation, were among the organisations.
Unemployed nurses have been demonstrating since early April protesting a PSC circular of March 28 on recruiting 3,616 senior nurses in public hospitals, which says applicants below 36 and attaining Bachelor of Science and diploma in nursing had to take an exam.
The nurses said the exam prerequisite was unjust because those who attained the educational qualifications a few years back and approaching the age might be left out.
Meanwhile, our Sylhet Correspondent reports: Nurses working in Sylhet city yesterday protested the attack on the unemployed nurses' by observing a daylong work abstention and brought out a procession demanding justice in front of Sylhet Central Shaheed Minar.