JCD-BCL clash leads 2 Rajshahi College hostel rooms attack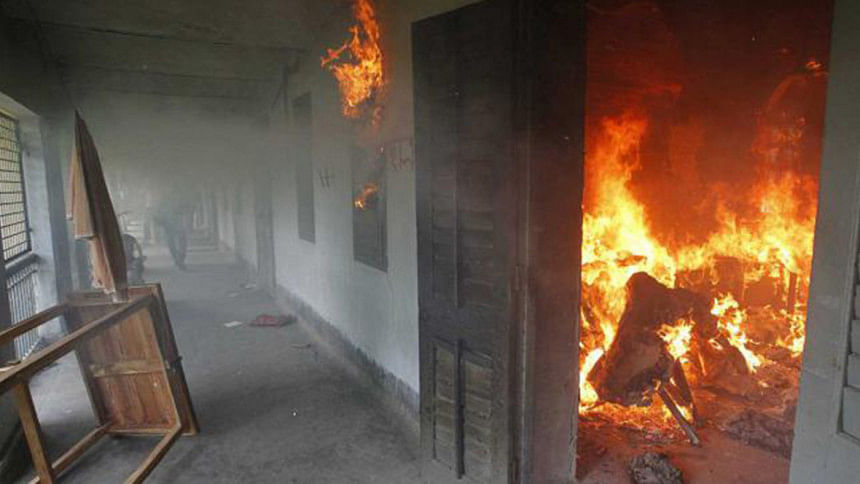 Two rooms in a hostel of Rajshahi Government College were set on fire today following a clash between Chattra League (BCL) and Jatiyatabadi Chhatra Dal (JCD) activists.
Earlier in the day, JCD men beat up Shahinur Reza, a fourth year student of Chemistry department and a BCL activist inside Muslim Hall premises, police told our Rajshahi correspondent quoting students of the hostel.
Half an hour later, a group of BCL men swooped on the hostel looking for JCD President Mortuza Famin and General Secretary Maksudur Rahman.
"As their efforts went in vain, they set fire on two rooms," said JCD president Mortuza Famin.
Later, a local unit of fire fighters doused the fire but all the belongings inside the rooms were burned already, said Iftekhair Alam, assistant commissioner of Rajshahi Metropolitan Police.
Additional police were deployed on the campus to avert any further violence, he added.
JCD President Mortuza Famin alleged that Shahinur was beaten by some of his men following a personal feud.
"But, the BCL activists burnt the two rooms boarded by our activists," he added.
Rajshahi city BCL President Rockey Ghosh refuted the allegation saying, "BCL men are not involved in the arson attack, police should find the real culprits."