In Banshkhali, despair and panic is all
With their breadwinners dead, imprisoned or on the run, families face hard times
Md Shafiq, a 14-year-old boy from Pashchim Gondamara, somehow escaped from the police vehicle after being picked up from his house, but his elder brother Rafiq, also a teenager, could not.
"At first I was puzzled. But when they [police] tried to handcuff me, I jumped off and ran away," said Shafiq, still haunted by the horror.
Around 3:00am of April 4, police also picked up his father Asad Ali and a relative visiting them from their house. Four other neighbours were also arrested in a raid over a case filed the previous night.
This out-of-the blue arrests prompted locals to call for a protest rally on the afternoon of the same day, which turned violent, leaving four people dead.
With their bread earners either in jail or on the run fearing arrests, these families are passing a hard time.
"We are spending our days amid uncertainty. Police have arrested my son and husband. We don't know where they are. Nobody wants to go to the police station fearing arrest," said Sufia Khatun, mother of Shafiq.
The poor woman has no money to process petitions for the bail of her husband and son.
On the afternoon of April 2, Shahidul Alam, elder brother of S Alam Group chairman, went to visit the Banshkhali power plant site with a big team. They came on bikes and CNG-run autorickshaws.
Seeing some villagers on their way, Alam got off his vehicle to talk with them about the project, said Abdus Sabur, a villager.
But Alam's men, mostly brokers, hired goons and some locals loyal to the Group, were locked in an altercation among themselves over who will stay close to Alam. A scuffle among them ensued, forcing Alam to leave the place, Sabur added.
Abdul Karim, another villager, supported Sabur's version. He also said that it was Alam's men who attacked the villagers and set fire to three vehicles.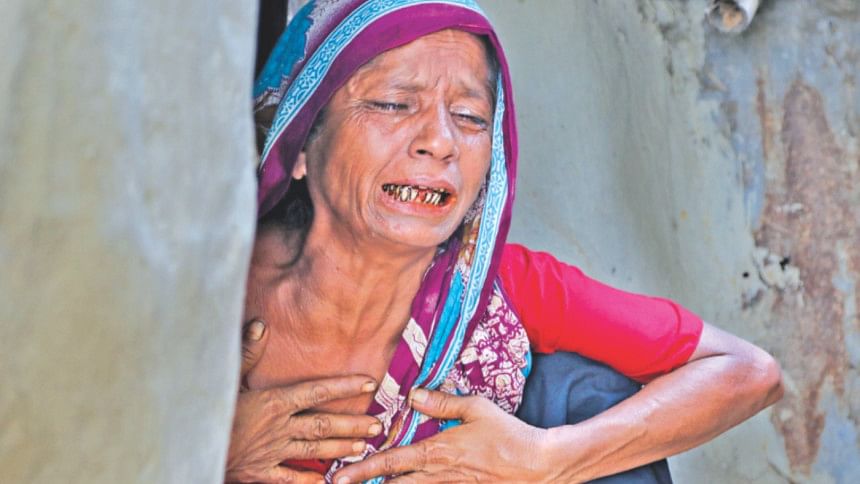 But Swapan Kumar Majumder, officer-in-charge of Banshkhali Police Station, blamed the villagers for the attack.
A case was filed on the night of April 3 in connection with the attack and police later conducted the raid.
'LOOTING MONEY'
Alleged police atrocities, including beating up of women, and allegedly looting money and valuables during the raid, further fueled the tension prevailing in Gondamara union over setting up of the power plant.
 "It was around 3:00am. We all woke up suddenly at hard knockings on the door. Police soon broke in. They beat my husband and my sister's husband who came to visit us. They looted our money from under the bed before taking them and two of my sons away," said Sufia, 45.
When the four were forced into an autorickshaw, Shafiq jumped off the vehicle and ran towards the sea.
The relative got freed the next day, but her husband and another son are still in jail.
Three other families gave similar descriptions of the early morning raid.
Failing to take physically challenged Ayub Ali from the neighbouring house, police allegedly picked up his 13-year-old son Akter Hossain.
Dilwara Begum, the boy's mother, alleged that police also beat her up when she tried to resist her son's arrest.
The poor couple with their three daughters is passing through hardship as their elder son, who lives in Satkania and works as day-labourer there, is on the run since he was made an accused in the case.
Nur Jahan, another neighbour, said she did not know what to do as police arrested her husband and 13-year-old son that night.
For Kodiza Begum, a widow in her middle-age, the arrest of her only son could not have been any harsher. Humayun, 22, was preparing to go to Qatar for a job.
Contacted, OC Swapan said two of the six arrestees were accused in the FIR and four others were involved in the attack. He denied that police arrested any teens or assaulted anyone.
'LAST LUNCH TOGETHER'
Day labourer Anwarul Islam of Charpara village was supposed to go for shopping on the evening of April 4 for her daughter's marriage ceremony. But the sudden call for a protest rally in the afternoon has changed everything.
He returned home from work early to join the rally to protest the arrests of seven innocent villagers. While having lunch, he told his wife that he would do the shopping after the rally. The marriage of his second daughter was set for May 4.
"It was beyond my imagination that it would be our last lunch together.  He hurriedly finished his lunch only to join the rally, though I cooked his favourite fish curry," said his wife Kohinur Akter.
Anwarul, 50, his elder brother Mortuza, 54, and Mortuza's son-in-law Jaker Ahmed are among the four people killed in the alleged police firing.
On hearing the news of Anwarul, his 10-year-old son rushed to the spot, only to be hit by a bullet himself. 
Kohinur now sees bleak days ahead with her two unmarried daughters and the wounded son. Her eldest daughter was married several years ago.
Though the family of her second daughter Meena's would-be husband assured that the May 4 wedding would go ahead, she is worried about arranging the money.
 "We have no land. For years, we have been sub-leasing land for salt farming. This year my father leased some land for six months," said Manik, Mortuza's son.
For the land, they have to pay more than Tk 60,000.
With his father gone, Manik, 22, has three unmarried sisters and two little brothers to take care of all by himself. His three other sisters are already married. One of these sisters, Afsara, lost her husband in the clash.    
"We have nothing, not even any land. I have lost my husband and my father. Now who will look after my children?" she said pointing at her three kids. "I have no alternative but to beg."