'Make Hindu marriage registration mandatory'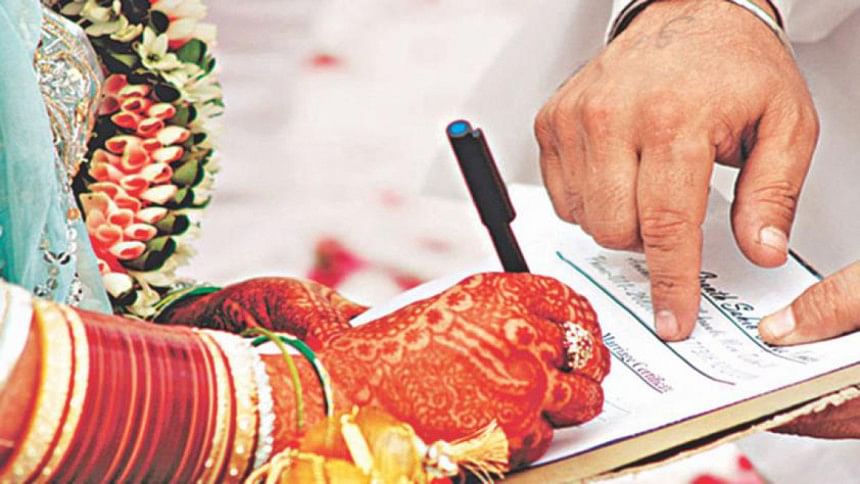 Speakers at meeting today stressed the need for making marriage registration mandatory for the Hindu community and incorporate the necessary provision in the marriage registration law.
Hindu people can get equal rights to divorce and properties if their marriages are registered, Justice Krishna Debnath, a judge of the High Court, said at the programme.
The achievement is that the marriage registration for Hindus is voluntary now, she said.
She was speaking while addressing a discussion on "Hiundu marriage registration" organised by rights group Hindu Bibaho Ain Pronoyone Nagorik Udyog (Citizens' Initiative to Formulate Hindu Marriage Law).
A Hindu couple can get their marriage registered through a local marriage registrar with a fee amounting Tk 1100, Arpita Das, senior programme manager of Mashusher Jonno Foundation (MJF), told The Daily Star.
A MJF press release said the government formulated the Hindu Marriage Registration Act in 2012 and framed its rules in 2013 on the demand from Hindu people particularly the women.
Hindu Bibaho Ain Pronoyone Nagorik Udyog has been working since 2009 so that a full-fledged Hindu marriage registration law is formulated in the country in order to protect the rights of Hindu community.
A Hindu woman has no right to divorce now and has to endure violence and deprivation.